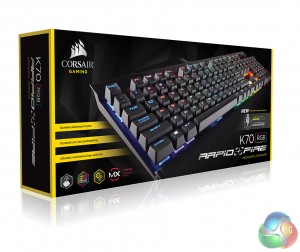 We got the Corsair K70 RAPIDFIRE RGB keyboard a little ahead of time, so our unit came in a plain brown box rather than retail packaging. However, we did manage to get a picture of the front box so you can see what it should look like.

The Corsair K70 RGB RAPIDFIRE is the newest entry to Corsair's celebrated line-up of mechanical keyboards. It is the first gaming keyboard in the world to feature all-new Cherry MX Speed RGB mechanical switch, which Corsair has exclusive rights to use for the next six months.
The thinking behind the Cherry MX Speed switch is simple- to compete at the highest level, you need the fastest keys, which is just what the RAPIDFIRE keyboard delivers. Cherry's all-new switches have a 45g actuation force and 1.2mm actuation distance, making them around 40 percent faster than Cherry MX Reds, which were previously considered to be the 'go to' gaming switch.
Corsair has a simple media key layout for the K70, with a wheel for volume control, which I personally like quite a bit. You will also find some play/pause and skip forward and back buttons.
As much as I liked the original K70 RGB keyboard, it did lack a USB pass-through, which seems like an oversight when you're spending £150 on a keyboard. Fortunately, that has been fixed this time around, with a single USB port built into the back of the keyboard next to the polling rate switch.
As you can see, Corsair has fully reverted to its old logo. While many parts of this keyboard are the same, Corsair has textured the space bar this time around to mix things up a bit.
There are four feet under the keyboard so you can have it raised at an angle or raised flat.
Aside from the keyboard itself, buyers will also find a few accessories in the box, including some textured, grey replacement key caps for WASD as well as some other keys traditionally used in PC games. There is also a key cap removal tool, so you don't have to worry about damaging your switches by prying the caps off.