Many of you will remember the huge amount of praise that the original Corsair K70 RGB received when it launched in late 2014. So can Corsair catch lightning in a bottle twice? First let's take a look at Corsair's software utility…
After installing Corsair's software, this is the first screen you will see. The interface is relatively clean and easy enough to navigate but each tab is pretty bare of information, so you may find yourself in a process of trial and error trying to find what you are looking for.

This window is also where you will find some of the basic lighting options, like the different colours and standard effects for the keyboard.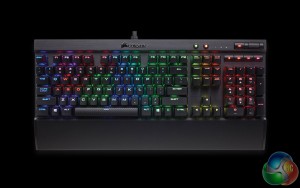 The K70 RAPIDFIRE's lighting system uses the same LEDs as the original K70 RGB, so performance is generally the same. That's not a bad thing though, after all Corsair did set the new standard for lighting on a keyboard and it still holds up well against the competition 18 months later.
For more advanced lighting, you can download pre-made profiles off the web and import them here. There are a ton to choose from out there, ranging from Pacman and Super Mario light shows, to more serious profiles for a range of games including Counter-Strike, Dota 2, League of Legends or MMOs like WoW.
You can try editing a lighting effect yourself. As you can see, the lighting editor screen is pretty void of useful information, so you may have to do some searching on Google to figure out how this works and exactly what you can do with it.
If you are more interested in macros and re-assigning keys, then the window for that contains a lot more detail. You can create your own shortcuts to any program on your PC, set up complex macro sequences and add custom media controls.
Or once again, you can import/export profiles shared by other K70 users.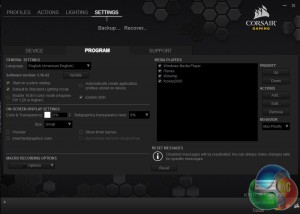 The settings window is the very last tab and allows you to update your keyboard's firmware, change languages and add in media players that you can control with the K70's dedicated media keys.
The Corsair Utility Engine (CUE) is a powerful bit of software. Not only does it allow for the configuration of the K70's RGB lighting and the creation of super advanced lighting profiles, but users can also create double macros and re-assign keys to different commands. However, while it may be one of the most comprehensive software suites around for a gaming keyboard, it is largely unchanged from the original K70 in terms of design and layout. This means that it does still have the slight drawback of making tasks feel overly complicated at times.
Now let's talk about the star of the show- the new Cherry MX Speed switch. This is a linear switch just like Cherry MX Reds and Blacks. This means that the switch has no tactile feedback, as you will find with Cherry MX Blues (clicky) or Cherry MX Browns (non-clicky). As we noted earlier, MX Speed switches feature an ultrafast 1.2mm actuation point and light 45g actuation force, which should make them far more responsive than any other switch on the market right now.
While I have traditionally favoured tactile switches, mainly due to the fact that I do far more typing than I do gaming at my PC these days, I must say that I am beyond impressed with Cherry's new MX Speed switches. Just as the specifications indicate, it is an ultra-responsive switch, which is great for typing as well as gaming.
The lighter actuation force was instantly noticeable and while I found myself mashing the keys far harder than I needed to at first, after a few hours with the RAPIDFIRE I managed to adjust and found myself not harshly bottoming out the keys.
These new Speed switches feel great for typing but the hyper-responsive nature of them also helps with the gaming experience. While I couldn't say I noticed any drastic improvement in my performance during competitive games like Counter-Strike, I can say that the experience certainly felt nicer than before. If any of you take your competitive games seriously, then you may appreciate the difference in speed a bit more than a casual player.