As usual with our keyboard reviews, I like to kick things off with a look at the software side of things. After all,  software customization is always important when it comes to a gaming keyboard so before we get into how this keyboard performs in games and general tasks, we should take a look at what's on offer.

Right off the bat, it is easy to see that the software for the Gear RUSH is very basic. This is the only window you get, with no additional tabs for things like lighting, or advanced settings like polling rate.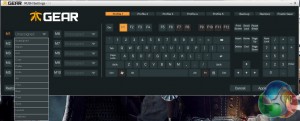 To create a macro, all you need to do is click on the key you want to add a command to, and then select one from the drop down list on the left-hand side.
The software is very basic but unfortunately I did encounter one fairly persistent issue with the software for the Gear Rush. For some reason, the drivers for the keyboard don't always install alongside the software. This causes the software to think that the keyboard isn't connected to the PC at all, which means it won't load- despite the keyboard being fully functional in Windows.
If you encounter this issue, you will need to go into the install folder for the software and manually install the drivers. After that, it should be smooth sailing.
Now let's talk about how this keyboard performs. As we noted earlier, this keyboard uses Cherry switches and while Kailh switches may have been cheaper to use, Cherry is widely regarded as the 'go to' switch maker better. I personally tend to favour Cherry switches, as do many other mechanical keyboard users.
Our model today uses Cherry MX Blue switches, which offer tactile feedback and a clicky sound. If you want the tactile feel but without the noise, then Brown switches are also an option. Alternatively, if you are just really into games and want a switch with low actuation force, then Red switches may better suit you.
Fnatic has opted for a tried and true classic keyboard design with the Gear Rush, which is great for minimizing the 'adjustment period' when switching between boards. It is practical and very easy to get on with, which is important when you spend a lot of time typing as I do.
While the typing experience is fantastic, this is a gaming keyboard when it comes down to it. For games, the Gear Rush performs as well as you would expect- I did not encounter any input lag while gaming and the Windows key has been made slightly smaller so I did not find myself accidentally hitting it. There is a 'Gaming Mode' option that will disable the Windows key anyway so that shouldn't be a problem for anyone.
If you like to spend a lot of time gaming with voice chat on though, then do be aware that Cherry MX Blue switches are quite noisy. One other thing to keep in mind is that there are no dedicated macro keys- this is not a deal breaker for me as I don't really use macros but it is worth keeping in mind.