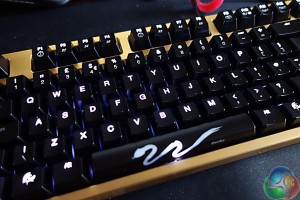 By hitting the FN key and the arrow up and down keys you can change the intensity of the LED lights across the board. I noticed immediately that at the top settings, the backlighting was more consistent and brighter than the previous generation DUCKY 2 boards.
We left the audio functional in the videos so you could hear the volume of the keys relative to some background music.
[yframe url='http://www.youtube.com/watch?v=M6uWlUxVkh8′] Ducky have included a wealth of lighting options accessible by the FN and F10 keys. These are all explained in detail in the manual and include the Wave Marquee, Snake Marquee, Reactive, Aurora and Ripple modes.
The effects of these Ripple, Wave Marquee and Aurora lighting modes can be made slower and faster, by pressing the FN with the left and right arrows.

You can disable the lighting completely, if you wish.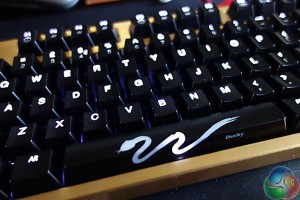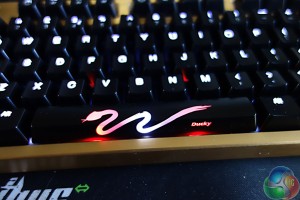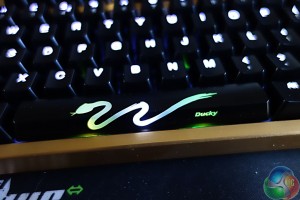 [yframe url='http://www.youtube.com/watch?v=yrCenX_sP90′] The spacebar has a full LED lighting mode, and by adjusting the FN and Insert/Home keys, you can adjust the colours. In conjunction with the FN key – The Insert key adjusts the red brightness. The Home key the Green brightness, and the PgUp key, the Blue brightness.