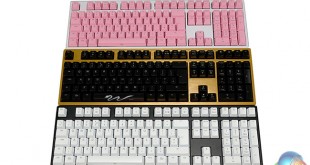 Very few companies have made such a positive mark on the peripherals sector as the Taiwanese based 'Ducky'. While their name is almost comical, their keyboards are rated as some of the best that money can buy. Today we look at their latest DK 9008 Shine 3 Tuhaojin Mechanical keyboard, cast in Aluminium, with a gold finish. This features the expensive Cherry Green MX Switches.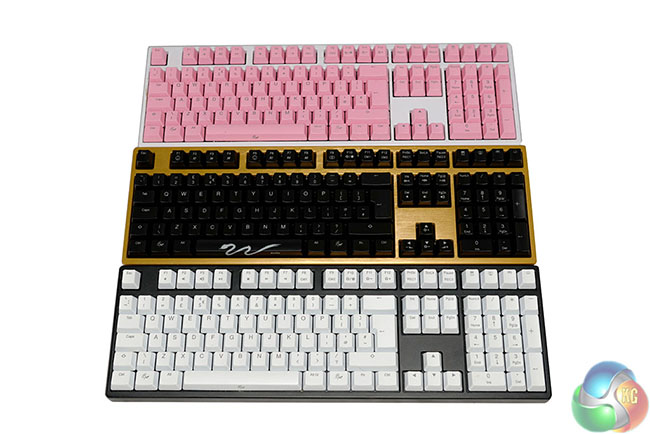 Regular readers will know I am a devoted fan of mechanical keyboards, having owned many in the last decade, including DAS, Steelseries, Razer and in the past 24 months – Ducky. I have gathered quite a collection of Ducky keyboards – and the image above shows the Ducky Shine 3 DK-9008 Tuhaojin Gold sandwiched between two Ducky 2 keyboards I have been using in my office, and at home.
Main Features:
Aluminium top casing.
Dual layer PCB for extra durability.
Detachable cable for convenience.
Full LED back lighting.
2 user customizable back lighting profiles.
Reactive lighting mode.
UV coated keycaps.
DIP switches for extra settings.
When we were offered a new Ducky Shine 3 it was actually one of the review products I was genuinely looking forward to testing. When they said it incorporated MX Green key switches my interest was heightened. Most of you guys will have a favourite key switch – I tend to gravitate towards Blue as they are the closest to the old IBM keyboards … although until recently I will admit I didn't even though a company was using an MX green switch within a 'mainstream' keyboard.

Cherry MX
switch type
Feedback
Clicky
Actuation
force
Bottom-out
force
Red
Linear
No
45 g
60 g
Brown
Tactile
No
45 g
60 g
Blue
Tactile
Yes
50 g
65 g
Black
Linear
No
60 g
80 g
Green
Tactile
Yes
80 g
105 g
I know the topic of mechanical switches is confusing for many of our readers, so on the next page I take a look at the range of Cherry MX Switches, including the green design.