Microsoft has been promising to up its PC support recently but many were surprised to find that the Xbox One controller didn't support the PC on or even near release despite the success of the Xbox 360 controller on the platform. However, Microsoft has now released the PC drivers for its new and improved Xbox One controller.
Many PC gamers like to keep a 360 controller handy just in-case but it still remains to be seen whether or not the Xbox One controller will steal the spotlight. Major Nelson revealed the drivers on his website along with a cool little picture of him playing Halo 2 on a Surface tablet: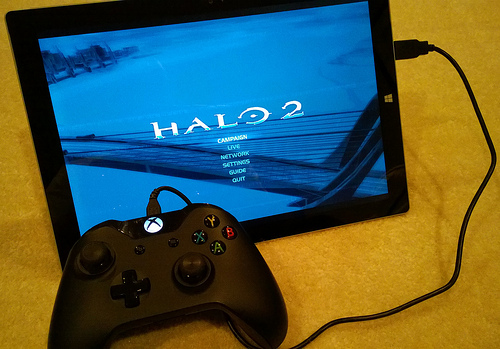 You can download the drivers, HERE. Major Nelson also wrote:
"We know our fans have wanted PC compatibility, and we know they wanted to be able to use the Xbox One controller with the same games and applications they have been playing with using the Xbox 360 controller. We can't wait for them to play their favorite PC games with what we consider the best controller ever made and we're excited for fans to experience the improved D-pad, redesigned battery compartment, new comfortable design and offset analog sticks. The new PC drivers will enable the Xbox One controller to be used with any game that featured gamepad support for the Xbox 360 controller. Simply download the drivers, connect your Xbox One controller to your computer through a micro USB cable and you'll be gaming in no time."
The main downside to this is that you can only use the controller via Micro USB. Older wireless receivers won't work with the new controller, which is a shame.
Discuss on our Facebook page, HERE.
KitGuru Says: Many PC gamers like to keep a 360 controller around for some titles but have any of you guys tried out the new Xbox One controller? Is it better? Do you think it will over take the 360 pad in terms of popularity?