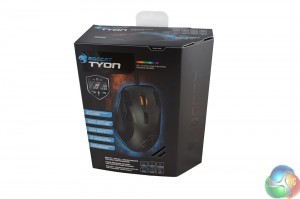 The box for the Roccat Tyon is actually really big, especially when compared to the SteelSeries Sensei Wireless, which we reviewed earlier this year.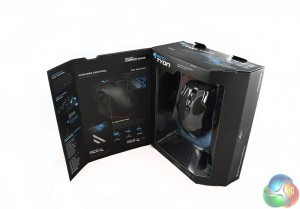 The front of the box uses a magnetic flap to reveal the mouse. It also lists several features in-depth, such as the X-celerator, which can be used for flying and driving vehicles in games.
The side of the box reiterates most of the information found on the front and back of the box with repeated mentions of the Pro-Aim R3 laser sensor, the X-celerator paddle and mouse buttons.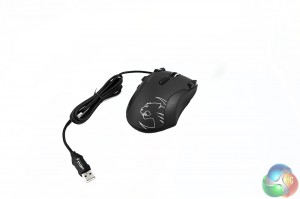 The Tyon is one of the most comfortable gaming mice I've ever used and its easy to see why, the contours of the mouse provide a natural fit for the hand. On the top side of the mouse you can see the first four re-programmable buttons as well as the 'fin switch', which is mentioned several times on the box.
The Tyon is a wired mouse, which will be a plus for many gamers who live in fear of input lag. The braided cable adds to the overall quality feel.

On the bottom side you'll find the Pro-Aim R3 sensor, which Roccat has been using in its mice for some time now. You'll also find some soft pads, which help the mouse glide across the Raivo mouse mat with ease. However, I've found that dust will built up around the edge of these pads fairly quickly.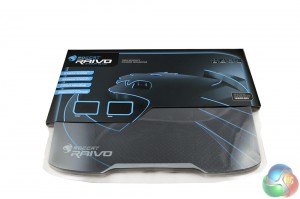 The Raivo mouse mat simply comes inside a plastic case with a card sleeve wrapped around it, boasting features like 'combat precision', 'ultimate gliding' and 'maximum stability'.
The Roccat Raivo mouse mat uses a granular surface for "optimal tracking". The backside on the other hand uses a rubber grip surface which works surprisingly well and keeps the mouse mat firmly in place on the desk.