Despite of relatively weak sales of PC monitors in the fourth quarter of 2014, Dell managed to retain its No. 1 position on the market, according to a new report from International Data Corp. Among the top five display suppliers only two actually produce liquid crystal display panels for them, whereas the rest are consumer-focused companies without own panel production.
Over 150 suppliers shipped 34 million display units in the fourth quarter of 2014, a year-over-year decline of 4.4 per cent, yet 1.3 per cent more than forecast, according to IDC. The top five makers of monitors controlled 60 per cent of the market, whereas smaller vendors supplied roughly 40 per cent of all units. Five leading suppliers managed to improve their positions in the Q4 2014, whereas smaller vendors lost a part of their market share.
IDC found that 97.6 per cent of all displays sold in Q4 2014 featured LED backlighting, whereas 22.5 per cent of monitors featured screen sizes of around 21". Only around 6.5 per cent of displays included TV tuners.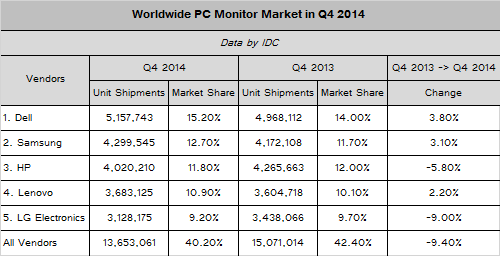 Dell shipped 5.1 million displays in Q4 2014 (an increase of 3.8 per cent year-over-year) and held the top position with 15.2 per cent market share. According to IDC, Dell's displays got more popular across the world, except Japan and Latin America.
Samsung strengthened its No. 2 position with 3.1 per cent year-over-year growth to 4.3 million units shipped. The company controlled 12.7 per cent display unit shipments in the fourth quarter of 2014.
Sales of Hewlett-Packard monitors declined in Q4 2014 by 5.8 per cent year-over-year, but still exceeded four million units. Nonetheless, HP managed to boost its sales of displays in Western Europe and Latin America.
Lenovo sold 3.6 million PC displays, improved its market share by 2.2 per cent year-over-year, but remained on the No. 4 position. The company saw year-over-year gains in five out of eight regional markets, including Western Europe (+27.5 per cent).
LG was the biggest loser in Q4 2014, which shipments declined 9 per cent year-over-year. In Q4 2014 the company commanded 9.2 per cent of the worldwide PC displays market.
"For consumer-oriented vendors like Samsung and LG the holiday season helped fuel the sector," said said Phuong Hang, director of worldwide trackers at IDC. "Shipments were also bolstered by high volumes of renewals for devices still running Windows XP in both the public and private sectors. Geographically, Western Europe, the second largest regional market in terms of units shipped, experienced year-over-year gain for the fourth consecutive quarter, recording 8.4 per cent growth in the last quarter of 2014."
IDC believes that around 30.3 million displays will be sold in Q1 2015, a decline of 10.4 per cent year-over-year. The company forecasts that 123 million PC monitors will be shipped in 2015. By 2019, worldwide shipments of PC displays are expected to decline to 103.5 million units due to adoption of mobile devices.
Discuss on our Facebook page, HERE.
KitGuru Says: The biggest surprise that the fourth quarter of 2014 brought is a major decline of display shipments by LG Electronics. The company is among the leading producers of LCD panels in the world, hence, declines like that are completely unexpected. While all top five display makers are great companies, it is noteworthy that companies like Acer, Aoc, Eizo, NEC, ViewSonic and other are considerably behind the leaders. Tell us what do you think about it. Which PC display brand is your favourite one?