At a press event in South Korea, LG Electronics has demonstrated the world's first and yet the only 55" OLED [organic light emitting diode] display that is less than one millimeter thick and weighs less than two kilograms. The company did not reveal when displays like that are expected to hit the market.
The LG Display's 1mm thick 55" television is currently the proof-of-concept, not a real product. This device will hardly ever be sold commercially and LG even does not disclose its resolution and other specifications. What LG wants to reveal with its demonstration is that it is progressing rapidly with commercialization of the OLED technology in general, reports Cnet News.
"OLED represents a groundbreaking technology, not only for the company, but also for the industry," said Sang-Deog Yeo, the chief of LG Display's OLED business unit.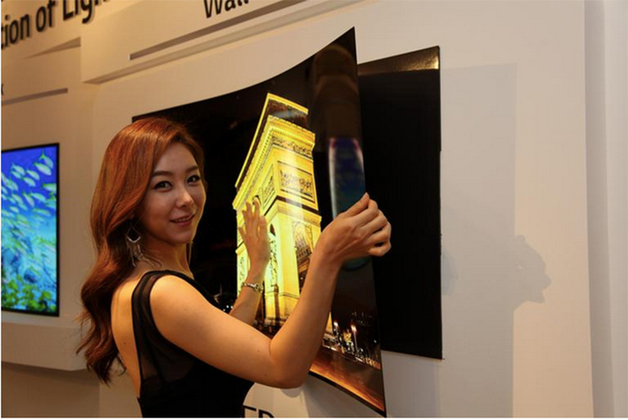 Organic light-emitting diode uses an organic compound, which emits light in response to an electric current, as emissive electroluminescent layer. The organic layer is very thin and can take different forms and shapes, allowing to build ultra-thin curved displays or televisions. Many believe that OLEDs are the future of displays, but so far poor yields and high costs have prevented the technology from becoming popular.
At its event, LG said that its OLED panel yield had hit 80 per cent, which is lower compared to LCDs, but pretty high for OLEDs. This year LG expects to ship 600 thousand OLED TVs, but next year production will expand to 1.5 million units.
The yields, prices and production of OLED panels will prevent 1mm thick 55" televisions from showing up on the mass market for a number of years, but the technology is progressing and someday could replace liquid crystal displays panels used today widely.
Discuss on our Facebook page, HERE.
KitGuru Says: 55" TV that is one millimetre thick is an impressive thing, but not too usable: who cares how thick is their TV? But imagine, what of revolution would OLED bring to smartphones, tablets and notebooks.