Tens of millions of 4K ultra-high-definition televisions have already been sold to consumers even despite of the fact that UHD content is rare and mainstream TV channels will not support ultra HD resolutions any time soon. The same thing is going happen to the successor of 4K UHD TV-sets, 8K UHD televisions, which will arrive to the market in 2018, according to an analyst.
Manufacturers of TV-sets introduce all-new resolutions every six years, according to Yoonsung Chung, director of large-area displays & FPD materials analysis in the DisplaySearch Korea office. TV producers first introduced high-definition TVs in 2000, whereas full-HD televisions emerged in 2005-2006 timeframe. The first ultra-high-def TVs showed up in 2011-2012. Once a resolution is introduced to the market, it continues to gain momentum for around six years. Then, a new, higher resolution replaces it, the analyst said.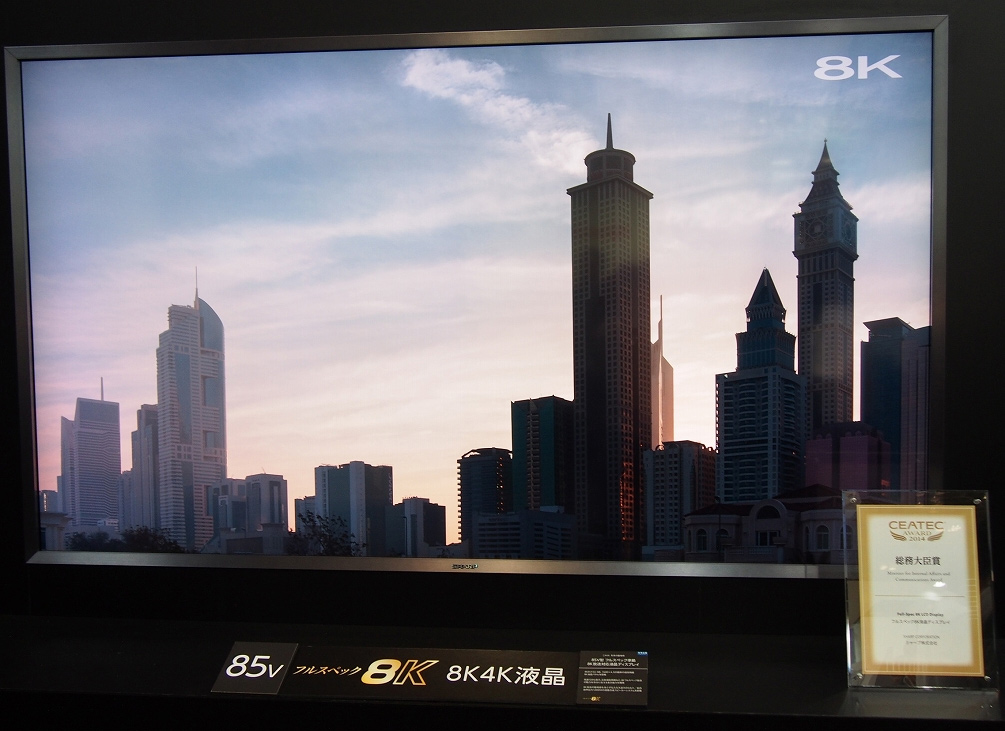 Mr. Chung expects the first 8K TVs to be introduced in 2018, when NHK (Nippon Hōsō Kyōkai, Japan Broadcasting Corp.) starts commercial broadcasting in 7680*4320 resolution and with advanced multi-channel audio. In 2018 NHK will be the only company in the world to broadcast in 8K super hi-vision format, but 8K UHD TVs will be available not only in Japan, but all around the world simply because industry players need another driver, like 8K, to stimulate the market.
In fact, a lot of technologies required for 8K ultra-high-def displays and TVs already exist. VESA's DisplayPort 1.3 and embedded DisplayPort 1.4 interconnections already support future 8K*4K (7680*4320) displays. Industry-standard HEVC codec for UHD video fully supports 8K resolutions. Leading makers of LCD panels are also experimenting with super hi-vision resolutions and will likely introduce their first commercial devices even ahead of 2018. However, to really make 8K content widespread, faster Internet channels, better video processors and higher-capacity optical discs will be required.
Researchers from NHK believe that 8K ultra-high-definition video format is the final 2D format as the 7680*4320 resolution (and similar resolution) is the highest 2D resolution that the human eye can process. According to scientists, all the future video formats after 8K should be stereoscopic.
According to DisplaySearch, around 19 million of UHD TV were shipped in 2014. The market tracker expects sales of ultra-high-def televisions to at least double in 2015, reaching 15 per cent market share for the whole year.
Discuss on our Facebook page, HERE.
KitGuru Says: Thanks to various Chinese brands, 4K UHDTVs are rapidly becoming commodity. Therefore, it remains to be seen how leading makers of TVs stimulate demand for newer UHDTVs going forward… Launching 8K UHDTVs should be aligned with content makers and not all of them are ready for such extreme resolutions.