Sony Corp. on Thursday introduced its first curved ultra-high-definition television, following LG Electronics and Samsung Electronics. Sony targets high-end of the TV market with its Bravia S90 TV-sets that come with 65" and 75" panels.
The Sony Bravia S90 curved ultra-high-definition 4K (3840*2160) TVs feature 65" or 75" "Triluminos" LED-LCD panels with extended dynamic range and stereo-3D capability. Just like other Sony ultra-high-def TVs, the Bravia S90 are pretty feature-packed, they integrate Sony's 4K X-Reality Pro technology that upscales regular TV broadcasts and Blu-ray movies to 4K resolution. The TVs also support 800Hz virtual refresh rate. Like the rest high-end TVs, the new Bravia S90 televisions feature advanced audio sub-system as well as integrated webcam. Sony does not reveal what type of panel the Bravia S90 uses.
According to Sony, the screen's precisely-calculated curve pulls viewer right into the action, making lifelike viewing comfortable for everyone in the room. Sony calls its Bravia S90  as "perfectly curved" TVs.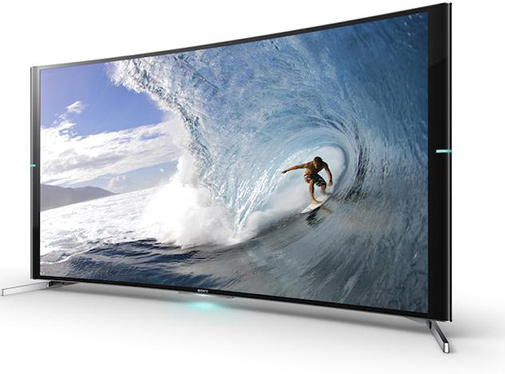 While it is unlikely that the TVs will be really affordable, but they will not cost an extreme amount of money like curved 5K UHD TVs with 100"+ panels from LG and Samsung. Engadget notes that, in China, Sony is offering the 65" version for 32,999 yuan or about $5360 (€4012, £3188), and the 75" version is available for for 49,999 yuan or about $8110 (€6071, £4825). Chances are that the TVs will cost less in the U.S. and slightly more in Europe.
Discuss on our Facebook page, HERE.
KitGuru Says: We still have almost nothing to watch in UHD resolution, but with Sony's Bravia S90 the limited amount of 4K movies will be a little bit more immersive.