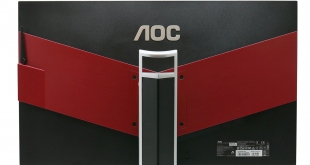 The AOC AG271UG, is a 27-inch, 4K gaming monitor that has an IPS LCD panel and includes G-Sync technology. With it maxing out at 60Hz, it's not a monitor aimed at fast-twitch gamers but instead combines excellent image quality, G-Sync, low input lag and a moderately fast response time to provide as smooth and rich a gaming experience as possible. Add in a premium design, plenty of features and a relatively low price, and it should be a tempting proposition for many.
Is it an oxymoron to have a "gaming" monitor that can only run at 60Hz? Well, if your first priority is competitive FPS gaming then the simple answer is "yes". If you're looking for a gaming advantage, 60Hz just isn't enough and, even if it were, running games at 4K resolutions will mean most graphics cards struggle to deliver a particularly high frame rate.
Instead, the likes of the AG271UG – and its direct rivals the Acer XB271HK and Asus PB279Q – are about making all your other gaming experiences as immersive as possible. G-Sync will smooth out any screen tear and stutter, that 4K resolution will provide masses of detail and the IPS panel should provide excellent colour accuracy and viewing angles. That's a pretty compelling combination.

What's more, you get a premium, all-metal, fully-adjustable stand plus several extras including a USB hub. Priced at around £600, it's certainly not a cheap monitor but it's either the same price as or cheaper than its main rivals.
In fact, the only real reason to have pause about buying this display is that both Acer and Asus – and presumably AOC at some point soon too – have already announced all-singing, all-dancing 4K gaming screens that will run at 144Hz.
Unveiled at the start of this year, these displays also include full array local dimming backlight technology for true HDR performance. This makes them very exciting – the fast refresh rate in particular will give pause for thought about buying a 60Hz screen such as this one.
However, neither of these fancy new displays has arrived yet, and it's looking like neither will for a few months. Moreover, they're likely to cost nearly double the price of this display so if your budget can't stretch to well over £1,000, the AG271UG may still be the ideal choice for you.
Specification:
Screen size: 27-inch, 16:9 aspect
Native resolution: 3,840 x 2,160
Refresh rate: 60Hz
Panel type: IPS
Contrast ratio: 1,000:1
Brightness: 300cd/m2
Response time: 4ms grey-to-grey
Display inputs: DisplayPort, HDMI
USB hub: USB 3.0, four ports, 1 x fast charging
Tilt: Yes
Raise: Yes
Swivel: Yes
Pivot: Yes
Other:
VESA: Yes
Warranty: 3 years
Retail Price: £430 (inc. VAT)