The 328P's OSD menu takes Philips' familiar format. That means it's largely intuitive even if there are a number of quirks to wrestle with.
Most obvious is the need, by default, to dig down into the main setup menu and configure the DisplayPort interface for 1.2 connectivity. Out of the box or reset to global defaults it's set to 1.1, which makes essentially no sense given the native resolution of the panel is 3,840 by 2,160 pixels, which requires 1.2 functionality to support 60Hz refresh.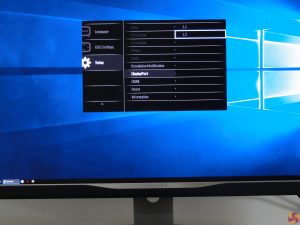 The same goes for HDMI connectivity. You'll have to navigate the HDMI stream configuration and select 2.0 to enable native 4K at 60Hz.
Still, it's great to see support for 4K at 60Hz from both interface types. That certainly ensures the 328P is versatile in terms of range of sources with which it's compatible, including the latest 4K media devices such as the Chromecast Ultra and 4K-capable gaming consoles, even if by far the most likely usage model for this type of display will be a high performance PC or workstation hooked up via DisplayPort.
Elsewhere, the 328P's interface is relatively minimalist, as you'd expect for this type of monitor. That said, both per-channel colour and gamma controls are included, as are individual controls for the pixel overdrive setting and the active contrast functions, the latter being an option most serious users will elect to leave disabled.
What isn't included, and frankly isn't needed on this type of panel, is a range of usage-themed global presets, such as 'cinema' or 'gaming'. Such presets are, at the best of times, usually of minimal utility and they're particularly irrelevant on a professional display that's likely to be used in a fully colour-calibrated state.