The decision has been made by the display industry. The next big tech trend to get us to buy an upgraded version of what we already have isn't 3D and it's not VR (not yet anyway), but 4K. However, the age old problem of getting the cost of these displays down to something that mere mortals can afford is always difficult. KitGuru was passing among the throng at PC Retails' Bootcamp event at The Brewery in central London, when something big caught our eye.
It wasn't long ago that giant, 90 inch 4K TVs were selling for upwards of £20,000, which is ludicrous money.
Just last December, Asus launched a 31″ 4K monitor that was over £2.5k. Again, that's still too much for most pockets.
But what happens to the appeal of 4K when the price dips below magic £500 mark?
Enter the AOC U2868Pqu – available to pre-order now from Overclockers at £499, with delivery on the 6th of the 6th.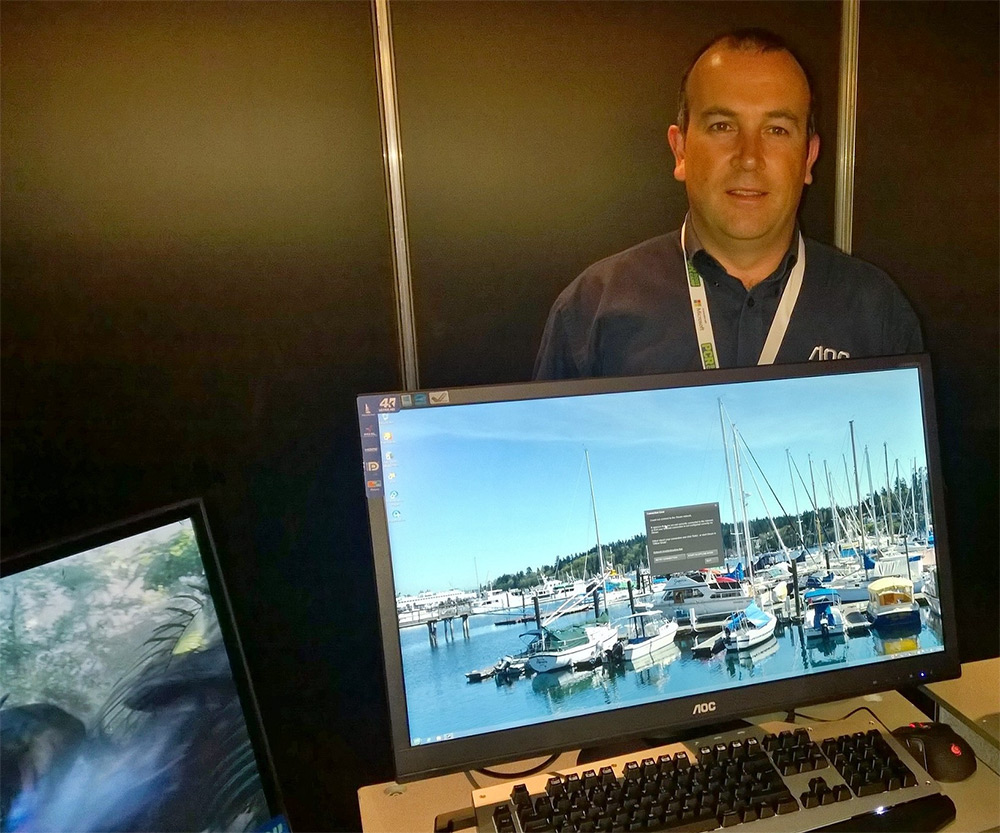 AOC's Nathan Blank, seen here providing a gorgeous backdrop for the new display
.
AOC isn't the first to offer a display in this range, but it is one of the first to offer such a gaming specc'ed display at this sort of price.
Shown off for the first time at the PC Retail Bootcamp event in London's iconic Brewery location, the new U2868Pqu is 28″ diagonally, has a 1ms response time (so ghosting is out of the question}, a 300cd/m brightness for high contrast and a 60Hz refresh rate.
All the while, displaying your favourite game at an eye watering 3840×2160 resolution.
Hungry for more?
Here's a spec sheet to prove it.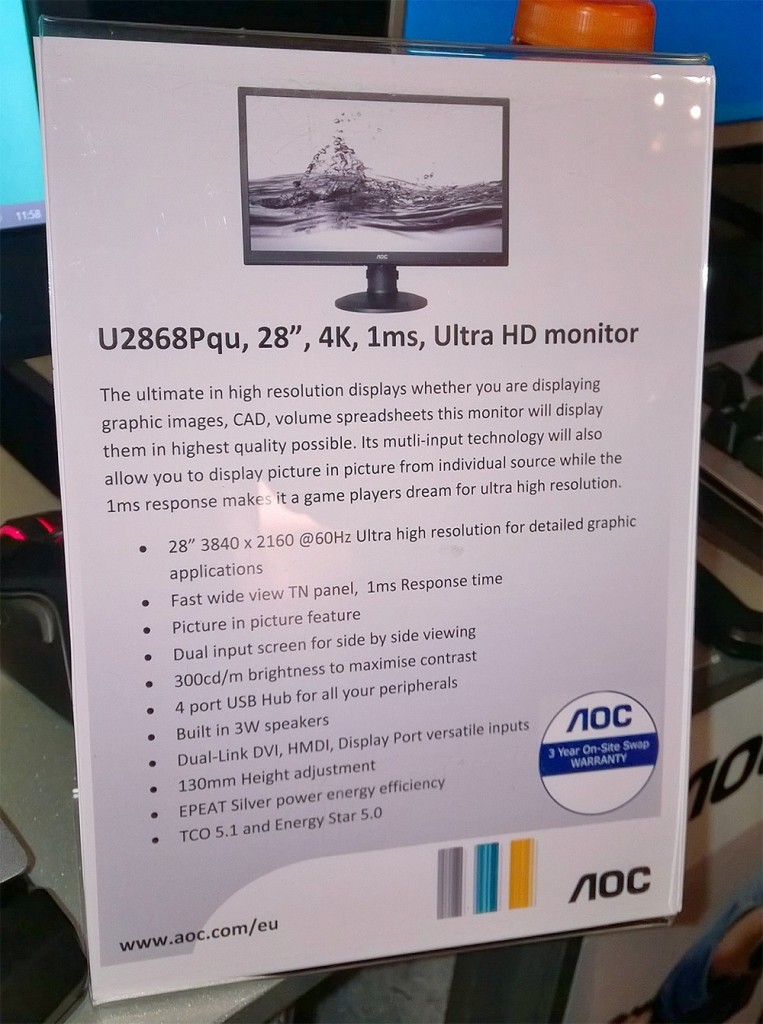 .
While the bezel could be thinner, the build quality is immediately apparent when you run your fingers along it.
We'll need to get it into the KitGuru Lab in order to render a full opinion, but our first impression is very positive and it does appear to be a technical marvel at its price point.
Connectivity wise it offers Dual-Link DVI, HDMI and Display port inputs and even has a pair of built in speakers for those who spend lots on monitors, but nothing on audio.
Speaking with AOC, we were told that it has the advantage over Samsung's recent 4K offering in terms of ports and ergonomics. In order words, you can plug more things in and move the screen around until you're 100% happy.
Discuss on our Facebook page, HERE.
KitGuru Says: Suddenly 4K gaming is starting to look at bit more doable isn't it. Go on, be honest. How many of you checked your bank balance before you finished reading this piece?