Considering how successful the Oculus Rift has been already, it's a wonder it took anyone almost two years to reveal a competitor. We finally got that last month with Sony's Morpheus, though only just before Oculus fired back with a Facebook takeover and Devkit 2 pre-orders. However, now there's another name on the scene: True Player Gear and its Totem headset.
It might look pretty similar to the Rift and its specs aren't far off, but the Totem does come packing a lot of features the Rift hasn't yet, which shows that the landscape for VR is really starting to heat up. The Totem uses a 1080p OLED screen, just like the Devkit 2, but it doesn't have positional tracking. It does however have a pair of cameras which means you can quickly switch to a view of the world around you without taking it off. This also has the potential for augmented reality in the future.
The Totem also has its own internal processing, with the idea being that whatever device you plug it into, you'll be able to play games without fear of the hardware being incapable of rendering stable frame rates. That has the potential for really democratising VR, but it also could drive the price up. Because of the onboard processing though, the Totem is able to adjust the image for each eye, meaning you can play without glasses or with different eye strengths and still experience the same, in-focus VR.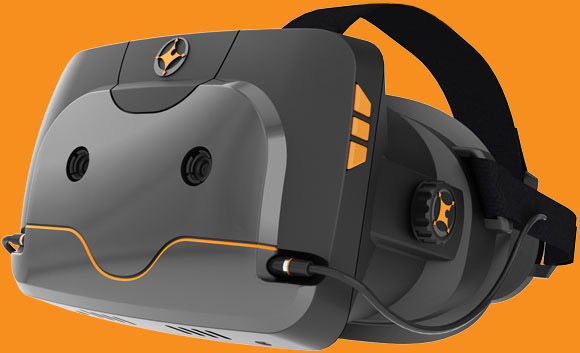 It also has a robot, wonky-smile look to it.
There's also a built in stereo-virtual-surround headset, much like Sony's Morpheus. And it could compete directly with it too, as Totem will work on the PS4 and PS3, as well as the PC, Xbox 360 and Xbox One. Now that could be the real game changer.
Currently Totem is planned for a Kickstarter later this year and will land before 2015 if all goes to plan. The developer, True Player Gear has said it wants to get the price as close to the Rift's as possible.
"We didn't initially intend to make any announcement. But we feel that with the news of a corporation buying Oculus, who is focused on web applications and doesn't understand the hardware business like others do, we really need to come out of the woods and let everyone know that there is an alternative that is coming soon," a spokesperson said in a satement. "We are in the last stretch of developing a final 5th gen prototype and are aiming to present a finished dev. kit on Kickstarter in the next few months."
It also took a quick swipe at Oculus, by highlighting that it designed its own optics.
Here's the full specs:
Screen
1080p OLED
Field of view
90 degrees
Connectivity
HDMI input
USB output (tracker)
Sensors
2x cameras 1080p
3 axis 1kHz gyro
3 axis 4kHz accel
3 axis magnetometer
Audio
Surround sound over stereo
Emulated controls
USB mouse
Playstation controller
Xbox controller
Non-game controls
Up, Down, Select/Real World View
Supported engines
Unreal
Unity
Havok
CryEngine
Platforms
PC
Playstation 3 and 4
Xbox One and 360
KitGuru Says: It's great news that there's more competition in the VR space. All this will do is make everyone work harder to stay ahead, which means better products for us. What do you reckon? Does this look like a Rift killer?
[Thanks IncGamers]