At CES last year, Asus and Acer made a big splash by showing off the first 4K/144Hz gaming monitors with plans to launch them both later on in 2017. Unfortunately, delays got in the way, as they occasionally do. During March at GDC, we got a brief update on that front, with an Nvidia rep saying that we should expect at least one 4K/G-Sync/HDR monitor to arrive in April. That month has been and gone, but apparently Acer will finally begin its rollout later this month.
Previous estimates have pointed towards a Q3 release date for HDR, G-Sync monitors. However, it looks like Acer may have its monitor ready to sooner than that at this point. Last night, the PCWorld YouTube channel posted a preview video for the Acer X27, which is a quick two-minute runover the monitor and its specs. According to the presenter, the monitor should be available in the US in two weeks time.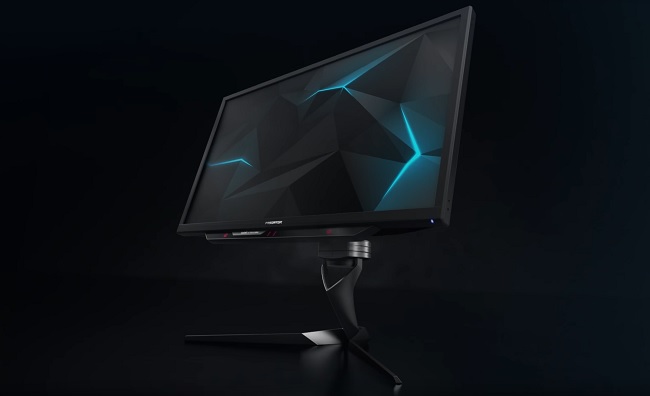 The first G-Sync, HDR displays from Asus and Acer are based on one of Nvidia's reference designs, which in turn uses the AU Optonics M270QAN02.2 AHVA panel. This is currently the only known panel that supports all of the features Nvidia wanted for its first HDR-capable displays, including up to 4K resolution and a 144Hz refresh rate. Interestingly, the video noted above says that the panel is actually 120Hz natively, but can be pushed to 144Hz via overclocking. This is something that ASUS and Acer have not mentioned before, so it's a noteworthy change.
Both the Asus ROG Swift PG27UQ and Acer Predator X27 will include a direct LED backlighting system with 384 zones, a 1000-nits peak brightness and Quantum Dot film to enable HDR10 and DCI-P3 colour gamut. We still have no word on pricing for either the Acer Predator X27 or the ASUS ROG PG27UQ. However, back when the Asus monitor was still due to come out in Q2 2017,  we were told that 'around $2000' would be the correct ballpark in terms of price. Given the lengthy delays for both monitors, this may no longer be the case.
KitGuru Says: While it will be hard to run most Triple A titles at 4K/120Hz or 144Hz, I'm still excited to see these monitors finally come out. That said, I'm not sure I'll be ditching ultrawide any time soon, so hopefully there will be a 3440×1440 alternative at some point. Are any of you planning on a high-end monitor upgrade this year?