While the buttons look the same on the outside, the OSD software inside the PG27AQ has a different design from that of the other ROG Swift displays we've covered this year. By default, it sits in the bottom right and has been somewhat streamlined, with smaller text, more compact menus and a different structure to the layout of settings, which makes a lot more sense.
If you press the lowest button it brings up the GameVisual menu, used to choose an image preset.

The next button up is the GamePlus menu, and like on previous G-Sync ROG Swift displays, it has an on-screen crosshair, timer and frame rate counter.
Without G-Sync, the frame rate counter is useless, but when the video card and display are synchronised it can accurately tell you the frame rate you are seeing as long as it's below 60fps.
Above that is a cancel button. At the top is the mini joystick, which shows the main OSD menu when you press it inwards.
The PG27AQ supports low blue light modes, with five settings to choose from.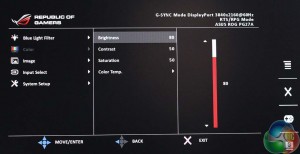 The Color menu provides settings to adjust the brightness, contrast and saturation. By default after a factory reset, this is set to a User mode, and the 'Normal' setting is a little too blue for our taste.
There's an Asus Overdrive setting to reduce ghosting.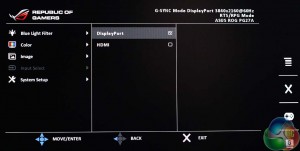 This is the first Asus G-Sync monitor to offer two display inputs and you have to go into this menu to switch between them. Note there is no picture-in-picture or picture-by-picture setting.
Asus has placed every other setting in a single menu called System. Along with multiple language support, there are options to control the OSD transparency, timeout and position on screen.
There's a key lock function, which can be cancelled by holding the top-most button underneath the joystick for 5 seconds.
There is also an option to enable or disable the Light In Motion function, which illuminates the stand with red LEDs.
You can also reset the OSD settings to factory default.
And enable both HDMI and DisplayPort deep sleep modes.
Overall, the OSD is great to use, easy to navigate with the joystick and perhaps most importantly, it load each page without any lag, which you sometimes find on cheaper displays. A half-second delay sounds like nothing but when going through dozens of menus, it quickly becomes frustrating, and that is most definitely not an issue with PG27AQ.