The ROG Swift PG27AQ is a 4K gaming monitor from Asus that supports Nvidia G-Sync up to 60Hz. It's a 27-inch IPS display with a 4ms response time and a 10-bit colour panel. Add on a flexible stand with pivot, tilt and rotate support, with a redesigned software interface, and it could be a contender for the best gaming display on the market.
Displays have gone from being a rather mundane area of technology, without much changing all that drastically over the years, to now being one of the most exciting areas of computer hardware. As such, a quality display is now the cornerstone of a great gaming experience.
TN panels have improved dramatically, with much better brightness and contrast, while continuing to offer low 1ms response times, which is great for fast, twitch-based gaming. IPS technology has fallen in price, with screens that have longer response times but much better viewing angles.
We have a wide number of new and exciting technologies that make displays far more interesting. This includes adaptive-sync, where the output of frames from the video card is synchronised to a monitor's refresh rate, eliminating the tearing effect you sometimes see in games. There are also larger 4K resolution displays which look unbelievably good in games, as long as a PC's graphics card can pump out pixels fast enough.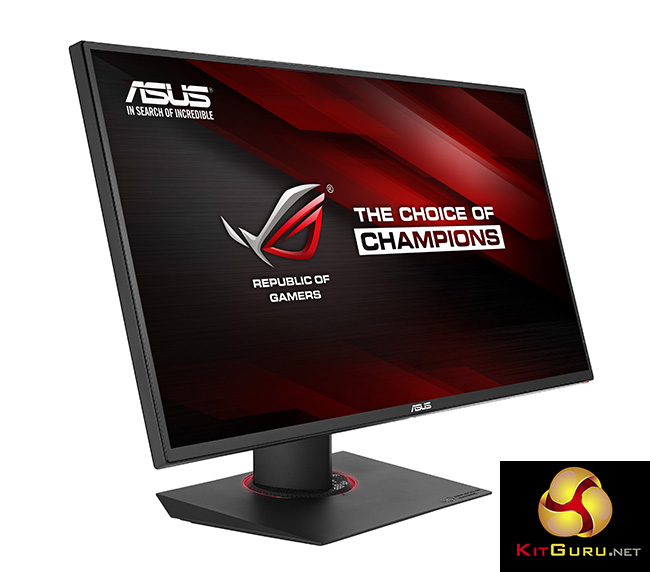 There are plenty of examples of displays that either come with adaptive-sync or 4K resolution, but few that offer both. And the vast majority of G-Sync and FreeSync monitors are built with TN panels.
That is what makes Asus PG27AQ so special. It offers a native resolution of 3840×2160 across its 27-inch IPS screen, and it is compatible with G-Sync, so it offers adaptive sync with Nvidia graphics cards. The combination of all three technologies in a single display sounds like a dream come true for a lot of gamers.
It's not the only 4K display with G-Sync. Acer's XB280HK (Review HERE) came out a few months ago and offers a very good combination of both G-Sync and 4K.
But there are two differences between that screen and the Asus PG27AQ. The XB280HK is based on TN panel technology, while the PG27AQ is IPS. And with the PG27AQ, Asus has addressed one of the main issues with G-Sync, that it only comes with a single DisplayPort 1.2 input, by building in a second circuit that allows for an extra HDMI port (although the PG27AQ is still based on the G-Sync 1.0 standard).
While not everyone will ever need more than one video input, having a second is important for anyone who wants to use a games console or second PC with their monitor.
It only supports G-Sync up to 60Hz. The previous Asus G-Sync display, the ROG Swift PG278Q, has a 1440p native resolution, and supports G-Sync up to 144Hz, as do many other displays, although once again, that is a TN screen. While the G-Sync effect will be noticeable even at 60Hz, it's not as impressive as when its running at 144Hz.
But unfortunately, if you want 144Hz 4K you will have to wait until at least 2016, as the current DisplayPort 1.2 standard cannot offer the required bandwidth to refresh a 4K pixel count 144 times a second. The DisplayPort 1.3 standard does, but no graphics card currently offers it. We expect both Nvidia and AMD's next-generation cards to adopt it, but it's not available yet.
If you want 4K and G-Sync in a display it seems this is a compromise we simply have to put up with for now. But to make up for this slight limitation the PG27AQ has a lot of other extras to offer. It is a 10-bit flicker-free panel, with a great (for an IPS display) 4ms response time, it has superb build quality and the now-ubiquitous Asus red joystick to navigate through the screens of a well-designed OSD. It all sounds very impressive.
Specification:
Screen size: 27 inch
Native resolution: 3,840 x 2,160
Refresh rate: 60Hz
Panel type: IPS
Display inputs: DisplayPort 1.2, HDMI 1.4
USB hub: 2x USB 3
Tilt: -5 to 20 degrees
Raise: Yes
Swivel: Yes
Other: Nvidia G-Sync, 10-bit colour, flicker-free panel, low-blue light settings.