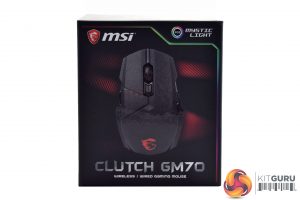 The MSI Clutch GM70 ships in a black box with a large photo of the mouse on the front.
Inside, presentation of the mouse and the removable side grips is stellar – everything comes firmly secured in stiff foam padding, ensuring no possible damage could occur while the mouse is in transit.
While we look at the full set of side grips and replaceable panels below, it is also worth pointing out that a small carry bag and a 2m braided USB cable are also included in the box.
Now, onto the GM70 itself. Contrary to the spec sheet, the mouse isn't actually black – it is definitely more of a gunmetal grey. That's not a criticism incidentally, just something to point out.
By default, the mouse is ambidextrous in shape – but as we shall see, that can easily be changed.
The GM70 is on the heavier side, though, coming in at 129g without any side grips or a top-plate installed.
Both the left and right-hand sides sport two side buttons each, and without any side grips attached there is no rubber or anything else on the sides.
At the front of the mouse we find the scroll wheel as well as a single DPI cycle button just below it.
Flipping the GM70 over, the underside of the mouse reveals two glide pads as well as the PMW 3360 optical sensor.
Before moving on, though, it is definitely worth looking at all of the removable panels and side grips, as that is obviously central to the GM70's design.
First of all, two top-panels come included. One is more pointed while the other is rounded off at the bottom. These snap into place with magnets, and removing them is as simple as pulling from the bottom.
Now, the side grips. Four come included, two for each side – one style is a smaller side grip while the other is a much larger thumb rest.
These side grips also attach magnetically so you just need to snap them into place and the magnets will keep them from moving about.
As you can see above, you can create a variety of different shapes depending on what side grips you use, and where you put them. This should allow for both left-handers and right-handers to use the mouse without sacrificing comfort.
Be sure to check out our sponsors store EKWB here