The Roccat Kone EMP ships in a very bright and colourful box, with a large product photo on the front.
Inside, there are two user guides and 3 stickers accompanying the mouse.
The Kone EMP itself keeps the familiar shape we have seen from plenty of other Kone-series mice. This means it is a fairly large, ergonomic shape, so it is only for right-handers.
Running down the sides of the mouse we find what looks like two glossy plastic strips. These are actually the LED strips and we will take a look at the mouse's lighting on the next page.
On the left-hand side of the mouse, there is a large groove for your thumb to rest comfortably, while we also find the standard 'forward' and 'back' browser buttons here.
The mouse's right-hand side is bare, though there is a slight intent for your fourth-finger to rest in.
At the front of the mouse we find the 4D scroll wheel – meaning it can scroll, be pressed down and be flicked left and right for added functionality. Below the wheel are two DPI buttons, one for stepping up and one for stepping down.
Flipping the mouse over, we get a look at the two glide pads as well as the sensor. The sensor is an interesting one as it is branded as Roccat's own Owl Eye unit, though I would imagine it is a modified version of Pixart's PMW 3360 sensor.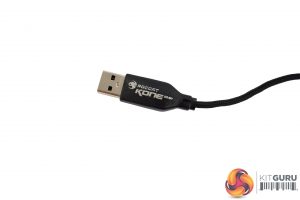 Lastly, the USB cable is 1.8m long and braided.