The Roccat Kone EMP is the latest addition to the well-regarded Kone family, and it definitely delivers a great overall experience.
It is very well designed, being a fairly large and ergonomic mouse. This makes a change from the slimmer, more lightweight FPS mice I have seen recently, but there is no doubting the Kone EMP is supremely comfortable.
This shape makes it ideal for use with a palm grip, but a claw grip is also very comfortable. Still, if you prefer a palm grip, this mouse is ideal.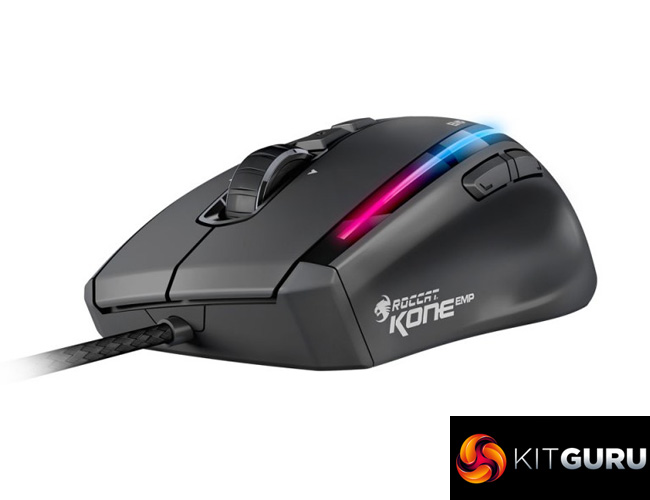 The Kone EMP also brings a lot of functionality with it, as the Easy-Shift[+] technology and 4D scroll wheel really open up options for having multiple functions mapped to the mouse. Most notably, you can actually map twenty-two different functions to the Kone EMP.
There is only one real downside to this mouse, and that is the RGB lighting. The Kone EMP uses two LED strips which run down either side of the mouse, and one LED is positioned at either end of each strip. While this does allow you to mix-and-match colours (and watch them mingle in the middle), some lighter colours don't shine through very well, they just look a bit weak. Darker colours like red and purple are fine, but those lighter colours don't look so good.
Overall, the Roccat Kone EMP is still an excellent mouse. It is comfortable, it performs very well and it offers a lot of functionality. For its price of £69.95, I would expect the RGB lighting to be better, but if that is less of a concern for you, I can wholeheartedly recommend a purchase.

You can buy one for £69.95 inc. VAT from Overclockers UK HERE.
Discuss on our Facebook page, over HERE.
Pros
Very comfortable.
Lots of functionality thanks to Easy-Shift[+] technology and 4D scroll wheel.
Top performer, whether it is gaming or photo editing.
Two DPI buttons.
The LED strips let you mix-and-match colours, which can work very well.
Cons
Some lighter colours look a bit weak.
Other competitors offer more lighting effects.
KitGuru says: All things considered, there is a lot to like about the Kone EMP. It is very comfortable, performs very well and offers huge amounts of functionality. The RGB lighting isn't the best we've seen, but this mouse still comes well recommended.