The ASUS ROG Gladius is the kind of mouse that makes me not want to review a mouse again for a while – as I really like this one and want to keep using it. It is easily one of the most comfortable and effective gaming mice I have ever used and fits my hand wonderfully. I have tested it with other grip types too (claw and palm) and found it equally comfortable – even if it does feel a bit less familiar.
I also really like the way you can customise this mouse feet and switches. That is a really interesting way to make it stand out among the competition, which, at its price bracket (£65) there is a lot of. It means you can fine tune the mouse to your tastes, as well as give it a life that is far beyond the many million clicks it is capable of right out of the box.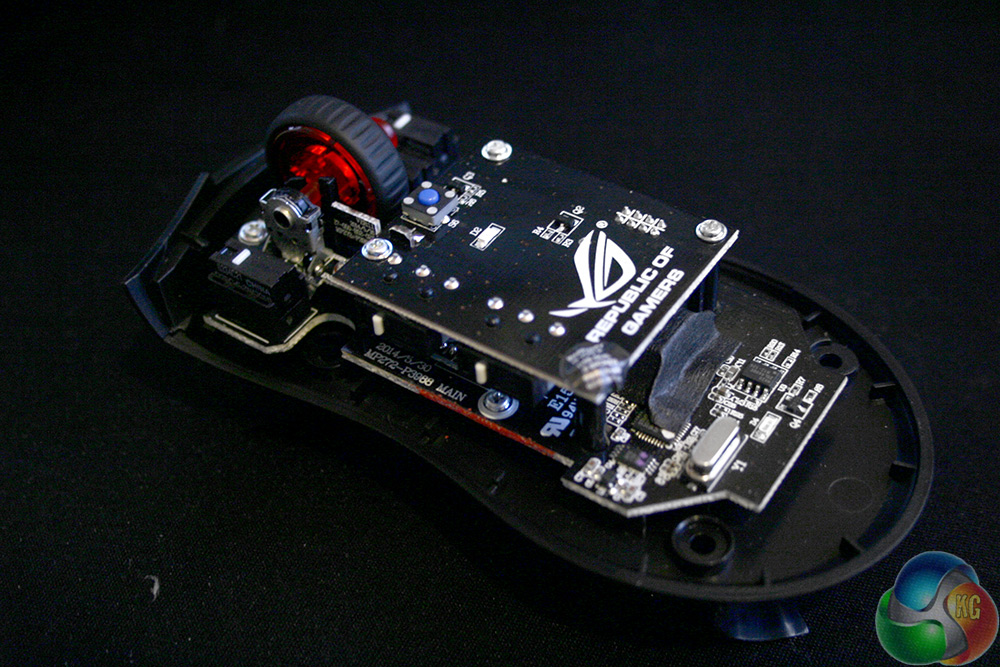 I do feel like ASUS could have found a better way to access the internals of the mouse, without ruining a set of Teflon feet, but by the time you come to replace yours you are likely to appreciate a fresh set of feet anyway. Also, you do get another set bundled with the mouse itself, so there is no problem with making the switch earlier in its life if you want to.
You can even customise your choice of mouse cable. Some people are not such fans of the braided ones, since they can drag a little on cloth pads. With this mouse, you have an option right out of the gate. It seems like it and a few of the other bundled extras might be the reason for the above average price tag, but it is something to consider when buying: you get options with the hardware.
Where you do not get quite so many options is the software, which while giving you all of the basics, shows a slight weakpoint of the ROG Gladius. It does not feature fancy lighting effects or colour options, there are no customisable weights or even that many remappable buttons. If that is what you are after however, there are plenty of other mice that offer it. The only problem is they are likely to be cheaper than this mouse too.
Most of the time though, I do not miss most of these 'features.' They are nice to have for sure, just as some of the hardware customisation options are with the ROG Gladius – but none of them are a deal breaker.
When it comes down to it, the ASUS ROG Gladius is a very fine gaming mouse, specifically designed to cater to FPS gamers and those that do not want a lot of profile options or buttons that get in the way of a smooth gaming experience. Personally I find it works well with most genres, but MMO players will likely bemoan the lack of buttons. It is very smooth however and fast, with enough DPI and other back-end options that you can customise it a little if you so choose.
The real selling points of the Gladius however are its build quality and hardware customisation – two aspects that are hard to find in other mice, even at its lofty price tag. Personally I would have liked to have seen it about £10 cheaper and that may happen over time, but even as it is, this is an excellent gaming mouse that I would be happy to recommend to almost anyone.
The ASUS  ROG Gladius is available on Overclockers for £65.
Discuss on our Facebook page, over HERE.
Pros
High end Avago ADNS-S3988 sensor is smooth and accurate.
Replaceable teflon feet and Omron switches (with bundled alternatives).
Two cable options in box.
Some back end lighting and sensor options with easy to use software.
High build quality.
Cons
Back end software is a bit stunted compared to others.
Missing features like weight customisation, RGB lighting and other back-end profile and DPI options.
Price is a bit higher than we would like.
KitGuru Says: Despite a few issues with software customisation, the ASUS ROG Gladius is a pure gaming mouse with some fantastic hardware options.