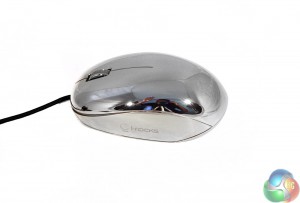 The mouse itself is unique looking. It has a chrome finish and is entirely mirrored. Yes, that is me waving in the image.

The mirrored look isn't the most exciting and my first impression was that of concern – any grease or dirt would show up very easily on the surface. Ultimately that turned out to be the case, but not to the extremes which I had initially thought.
Check out the final page for more of an explanation.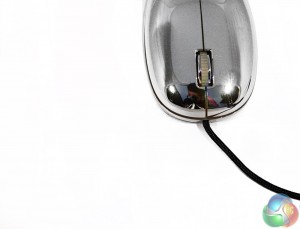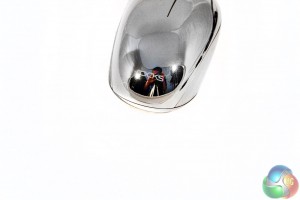 This is a very streamlined rodent, with only three buttons up top: the left right and centre scroll wheel. The whole thing is made up of two panels, a single one for the main body, split down the middle at the front, and another one that wraps around the edges. They fit together extremely well so you barely notice the seam and the overall build quality of the mouse is excellent.
I had reservations when I first got this mouse, expecting it to feel cheap and tatty, but it's surprisingly not. This is a very well built peripheral, even if it does lack a lot of the bells and whistles of a gaming focused piece of kit.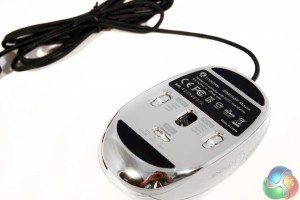 The underside hides the controls you often find up top with a gaming mouse, giving you options for polling rate and DPI, though with a reasonably modest 3500 as the maximum, chances are you'll be leaving them at the highest setting.
The bottom switch is for controlling the lighting system. With it you can turn the overall glow (see final page for images) on and off, or lock it to a single colour. With no instruction it rotates through several attractive options.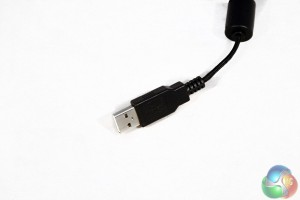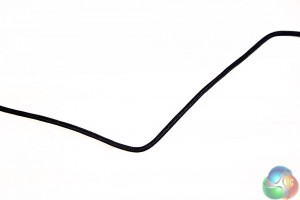 No gold on this USB cable, it's all nickel which is all you need anyway. Gold is unnecessary as it only really ramps up the cost. The cable is nicely braided though, which often only appears on much more expensive peripherals.