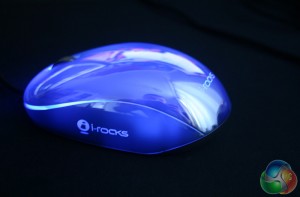 There's a lot of colour options with the Spirit Cocoon, but they envelope the whole mouse in an impressive display. The surface stays mirrored at all times, but the lighting gives it a nice effect, especially in the dark. Here's a few of the colours available, but over the course of a minute, it cycles through pretty much every major colour in the spectrum.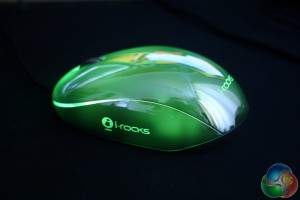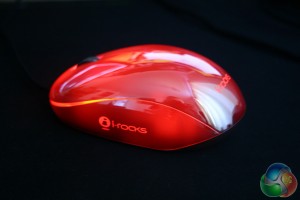 However, we can't sit here staring at the pretty colours all day, we need to figure out if this thing is any good don't we?
To do that, we use the mouse for general office work over several days, as well as taking the arduous task of gaming on it for several hours at a time, using a variety of games and genres. During that time we take into consideration things like responsiveness, accuracy and comfort and note down anything that we think you might need to know. Your opinion on a peripheral may differ from ours but we've tested a lot of these in our day, so we'd like to think we have a good grasp on what's good and what stinks.
As always though, we still recommend you try before you buy, if you can.
With that out of the way, how did the Spirit Cocoon fare?
While the Spirit Cocoon isn't designed as a gaming mouse and indeed, in its plastic packaging, it does give off the vibe of low-quality pap, it's actually far, far from it. This is a solid little mouse that has a good enough sensitivity to hang with dedicated gaming mice all day long.
Sure it doesn't have side buttons and it's for claw grippers only, but it's perfectly usable in any genre of gaming. I've put it through its paces in fast paced RTS titles, twitchy shooters, slow puzzlers and in all of them, the i-Rocks performed very well indeed.
If I was nitpicking, I'd say that it does have a bit of a high lift-off threshold, so if you're one of those people gaming in a shoebox, you might find it a bit annoying, but I think at this point we all have desks big enough to accommodate a reasonable mousing area. Likewise, the Spirit Cocoon is sensitive enough (at 3,500 DPI) to be able to cross twin 24″ monitors in about three inches. You're not running out of room any time soon.
On top of being speedy and accurate the i-Rocks rodent is pretty comfortable too. I will say though that it suffers from the same issues as a lot of mice with reflective surfaces … it builds up finger grease and dirt quicker than most. Within a few hours of playing, I noticed a build up along the front two mouse buttons.
This might not be a problem for people who don't perspire a lot, but for those of us that do, it's something to consider. You may want to keep a cloth handy if this becomes your mouse of choice.
Perhaps the best part of all this though is the cost. You can pick up an i-Rocks Spirit Cocoon on Amazon for just £23, although there is a bit of a wait on them at the moment.
Overall, I was impressed with the i-Rocks M50 Spirit Cocoon. It can give an initial impression of being a 'cheap Eastern mouse', but after using it for a short while, it is actually very capable indeed. It's fast, accurate, comfortable and though it does build up grime quickly it is still a great buy at such a low price. Throw in some pretty versatile colour options and this is one of our favourite budget mice available today.
Discuss on our Facebook page, over HERE.
Pros
Light and fast
Good sensitivity and accuracy
Very affordable
Good lighting options
Cons
High lift off height
Builds up perspiration and dirt quite quickly
KitGuru Says: The i-Rocks Spirit Cocoon is a surprisingly good mouse that makes me feel guilty for judging it too soon. At a price that's easily affordable this is a great budget mouse.