As with all mice, we'd recommend you try them out yourself before you buy them. However, that's not necessarily easy to do, so through diligent testing of multiple games, through hours of general usage and in some complicated, real-world scenarios like photo editing, we'll take into consideration everything from accuracy, to speed and comfort and let you know what we think – it's all important when it comes to buying a new rodent.
With gaming, the NAOS performed very well indeed. Its high sensitivity makes it perfect for high speed, twitch based gaming where that shaved millisecond of reaction time can make all the difference.
That said, I did find that for my personal tastes, 7,000 dpi was just too sensitive. I would occasionally miss-click or overshoot something, so while it is something I might have gotten used to over time, I spent most of my time with the NAOS using it at a more manageable 5,000 dpi.

Fortunately, thanks to the Mionix software, it's very easy to change sensitivity settings, with three possible stages for each of the X and Y axis, which can be fine tuned individually if you like. On top of that there are options for lift distance, pointer speed, simple button remapping, LED lighting options and even a surface analysis tool to calculate how much of your mouse mat (or table top) is being registered by the optical sensor.
In this case, the 70 per cent rating pad rating is a bit embarrassing for Mionix, since we are using one of their own mouse mats.
Don't mistake my play with the software and drop the DPI as a criticism of the NAOS' accuracy though. I didn't find it any less accurate during FPS gaming, than I did in much slower strategic or puzzle titles, though I did find the palm grip style in general a little less controllable than my usual claw style.
Again it might just be a lack of familiarity, but when you've spent your entire life gaming like Jim Carey in Liar Liar, it's very difficult to switch that up, even for the purposes of a review.
I did persevere and found the NAOS a very comfortable mouse to use and ultimately, can see that there are certainly benefits to palm gripping, like added wrist support. I still maintain that a claw or finger grip gives you faster, more fine tunable movement than a palm grip, as your hand and fingers are just much more nuanced than your arm – which handles more of the movement in the latter grip type.
Personal preferences aside though, the NAOS is a really nice mouse and I've enjoyed using it. If I had to pick out anything that I didn't like, the mouse wheel is something I would complain about. On my version is, for some reason, it is really quite noisy.
A few scrolls will have you rolling your eyes at the sound of it rubbing around on its axis. Compare this to the AVIOR and it's a whole different world – near silent.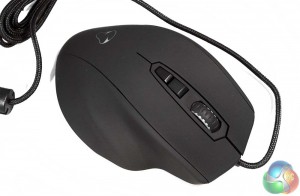 Like the AVIOR, the NAOS 7000 is missing a few features. There is no customising the weight of the mouse and it lacks the ability to scroll horizontally – but unless you are a video editor or like visiting websites from the late 90's, then chances are that isn't a feature that you'll find particularly important.
Those minor complaints aside, the NAOS is a very solid mouse. The 7,000 DPI is overkill, especially with the slightly reduced control you get (or at least I do) from a palm grip style mouse, but it is fast, accurate, has plenty of customisation options through the software and it's very comfortable. If you're a palm gripper, you could do a lot worse than the Mionix NAOS 7000.
How much?
Like its ambidextrous brother, the NAOS is supposed to retail at around the £70 mark, putting it at the upper end of mice price lists, but it's currently available on Amazon for £75.75 – so it is quite expensive.
Pros
High sensitivity.
Remap buttons and tweak a lot of options in the software.
Comfortable over long periods.
Good build quality.
Cons
Noisy scroll wheel and no side scroll.
Only really compatible with palm grip (claw can be used, but it's not as comfortable).
No weighting options.
KitGuru Says: Even though this is a great mouse, I would still recommend the AVIOR over it because you can use whatever grip type you want. And its scroll wheel is quieter.