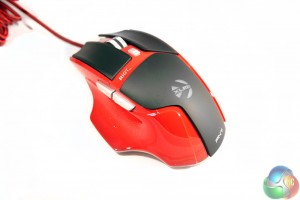 The PNY Riot 01 is an eye catching mouse. With its bright, red, glossy paint job contrasted against the matt black panelling, this is not the kind of rodent that blends in with a cloth mouse mat. Personally I find it a little gaudy, but it certainly stands out among a lot of matt black competition.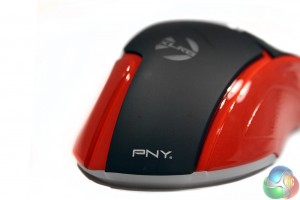 There is a small PNY logo at the rear which is a little more understated than the rest of the design, with a clear-plastic XLR8 logo which lights up when the mouse is powered on.
This being a seriously ergonomic mouse, the sides are rather distinctive. The left features a deep thumb rest and a texturing to the red plastic to help with grip during perspiring gaming moments. There are also a couple of typical side buttons, offering forward/back functionality in-browser at default.
They are the kind which requires lifting and pressing, rather than rocking to activate, but this is less of a problem on a mouse like this which is controlled with the palm more than anything.
The right hand side has a much shallower, but still supportive finger rest.
The front end of the mouse features distinctive left and right click buttons, made from a soft plastic which feels nicer to the touch than the red shell. They each have a solid and satisfying click, with no rattle to speak of.
Between them is a textured, stainless steel scroll wheel which also features a central lighting strip. Behind that is the DPI cycle button, which lets you jump between sensitivities at a touch. I have always been more of a fan of DPI up/down switches rather than a single cycle button and there certainly seems like there should be room for that here.
The cable ends with a rubber protector, which should help prevent damage over time.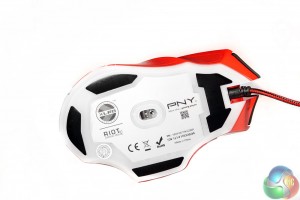 The underside is an off-white translucent plastic, to allow for underfloor lighting when the mouse is powered on. It has the usual unbranded Teflon feet in off-centre, but well placed, spots and a central optical sensor.
The cable is braided red and black, with a standard, nickel plated USB header at the end.