Methodology
To test the PNY Riot-01 gaming mouse I put it through its paces in a number of different games, using it in fast and slower paced titles, for long gaming sessions. I also used it as my go-to office mouse for one week, using it for general office tasks, web browsing and some Photoshop work.
During this time I noted its accuracy, speed, comfort and ease of use, as well as the features found in its back end software.

Gaming
For an entry level gaming mouse, the PNY Riot-01 is very effective. It is fast and accurate and sits well in your hand so is capable of acting as a great input mechanism for whatever game you are playing. In shooters like Left 4 Dead, it is as capable of fast spin, spray-and prays as it is accurate head shots. While 4,000 DPI may not be enough for those who like to have a low in-game sensitivity for improved accuracy, it should be more than enough for the average gamer.
Lighting on the Riot-01 is varied and bright, with RGB colouring and adjustable options in the back end software
If you like to switch between sensitivities mid game, you can do so easily enough. While I would prefer an up down switch – or at least some sort of on-screen DPI indicator – to prevent from overshooting and suddenly finding yourself at the lowest sensitivity at an important time, the cycle switch works just fine.
There are only a couple of non-standard buttons you can remap, so this is not likely to be the tool of choice for those who like a lot of macros or custom switches. However the function is there and the back end software lets you choose from a drop-down list of available functions.
You can even have presses repeat a certain number of times if you like to fire off a full clip with one click.
Since this mouse uses an optical sensor, it is certainly best when used on a mousing surface like a cloth mat. It does work ok on a desk surface, but it is not ideal.
One aspect of the PNY Riot-01 which is a little weak is its lift-off tracking. There is still some tracking when lifted five millimetres above the surface, which could cause some issues for those who are trying to game in a small space. This is a mouse more well suited to those with larger mouse pads and with space to sweep their rodent back and forth.
General Usage
Although my personal preferences tend to lean towards ambidextrous mice, I actually quite enjoyed my time with the Riot-01. Its ergonomic shape fits my slightly undersized hands well, but there is certainly the space and scope for larger mitts too. Buttons are within easy reach and I was able to employ palm and finger grips without difficulty. Claw gripping was much harder due to the low-slung thumb rest, so is not a style of grip I would recommend with this mouse.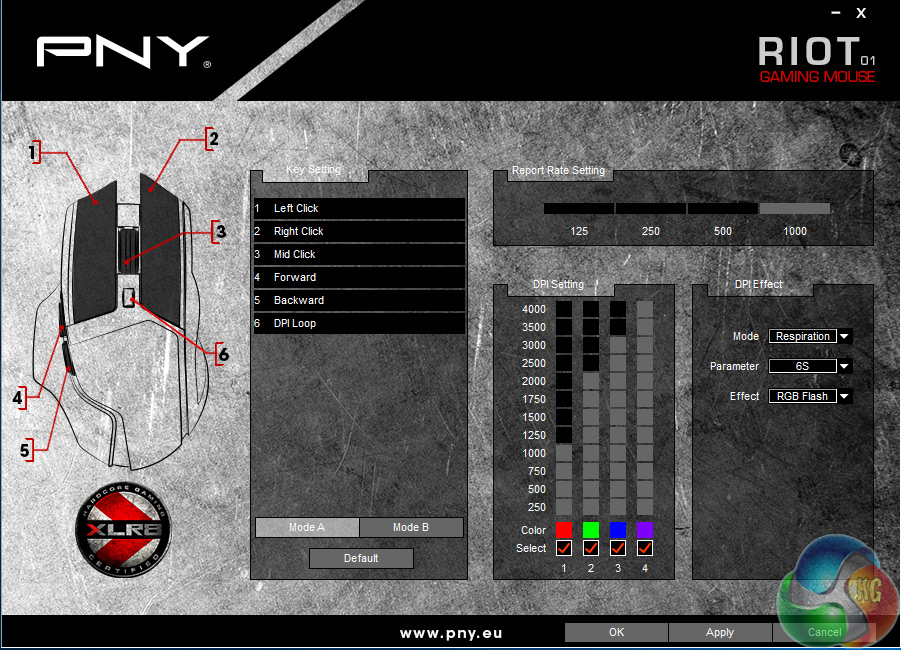 The software for the Riot 01 is basic, but functional. There are options for macros, lighting and sensitivities on a single panel
More precise office-tasks like photo editing in Photoshop were well handled by the Riot too. With the DPI cycle switch in easy reach, I was able to lower down the sensitivity for those all important fine tuning movements and 4,000 DPI was more than enough for more general brush work and selections.
The left and right mouse button have a solid and accurate click to them and do not require an undue amount of force or feel overly sensitive, regardless of where you press them. I particularly liked the steel scroll wheel, which was whisper quiet and smooth, while still giving you good tactile feedback for its rotations.
One unfortunate problem I did have with the PNY Riot-01 though, was that sometimes when I rebooted my PC, it would stop working entirely, though would remain lit up. I had to switch USB port to have it reconnect. This was an inconsistent bug which made pinning it down difficult. It seems to stem from an issue with the software as sometimes the mouse would function before it had loaded up and then I'd lose function afterwards.
We have reached out to PNY to find out why this might be and will update this review as and when we hear back.
Comfort
The PNY Riot-01 is a surprisingly comfortable mouse considering its budget price tag. The soft-plastic palm rest sits nicely in your hand and there are no sharp plastic edges to speak of. The finger and thumb rests offer plenty of support and PNY has done an excellent job with the ergonomics to fit both palm and finger grip styles perfectly.
My only hang up with the Riot was that during particularly intense gameplay, perspiration could build up on the glossy plastic of the thumb grip. The textured surface meant that I never lost control, but other materials do feel nicer to play with when things get a little moist.