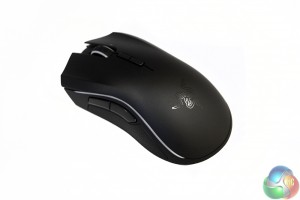 The Razer Mamba 2015 RGB is an attractive peripheral. It has a singular matt-black paint job across its entire surface, though there is a change of material on the side for the grips. It features a palm-facing Razer logo and a pair of translucent light-strips along each side, which when powered on light up in either a rainbow effect, or your chosen colour preference.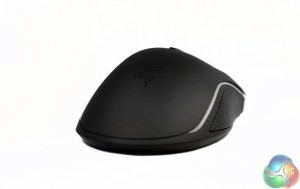 The whole construction feels sturdy and does not creak when gripped tightly. There is some separation at the light strips, but the entire upper part of the Razer Mamba is one singular piece of plastic, which gives it a uniform look. It also means that the left/right-click buttons can be pressed from as far back as the apex in the mouse's curved shell.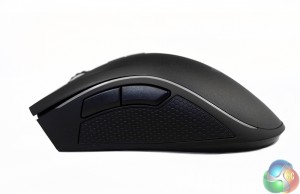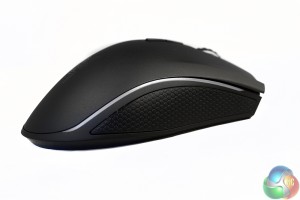 The left hand side has a large section of textured rubber to improve grip and reduce the effect of perspiration. This is twinned with a pair of thumb buttons, which can be pressed with a rocking motion and therefore do not require the removal of the user's thumb from the grip to activate.
The right hand side in contrast, features the same light strip and thumb grip, though there are no secondary buttons. That, plus the shaping of the mouse makes this one that we would recommend for right-handed gamers only. While it could be remapped with a lefty in mind, it would not be ergonomically correct.
The front end features the usual left/right-click buttons, as well as a central scroll wheel that has a pair of its own translucent light strips which come to life when powered on. The wheel itself is coated in rubber and textured and can be pressed down, left and right for a trio of functions.
Behind it are a pair of DPI selectors, offering the ability to go up and down in sensitivity with the press of a button.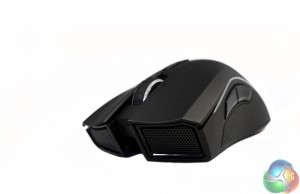 The front end also features a micro-USB port between its twin protrusions. This allows the mouse to be 'wired' to the computer.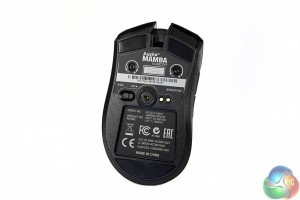 The underside of this mouse features a centrally located laser sensor, a pair of copper charge points for the dock, an on/off switch for the wireless mode (though there is an automated standby feature which can be tweaked in the settings) and a pair of screws.
Tightening and loosening these adjusts the strength required to actuate the left/right-click mouse buttons. Razer include a little screwdriver, specifically for these adjustments.