Testing a gaming mouse like the Razer Mamba involves putting it through its paces in a number of different genres of games, as well as using it for extended periods for office work like photo editing and web browsing, all the while factoring in its performance, accuracy and comfort over long periods. We also look at its back-end software and feature set, to see how it all stacks up against the price you have to pay for it.
Considering many buying this mouse will be doing so for its gaming ability, we can happily report that this version of the Mamba is just as, if not better than its wired counterpart, the Tournament Edition; which we reviewed very highly. It exhibits a fantastic smooth movement in both wired and wireless mode – though we would say wireless edges it out, since the mouse lacks any cable drag that way.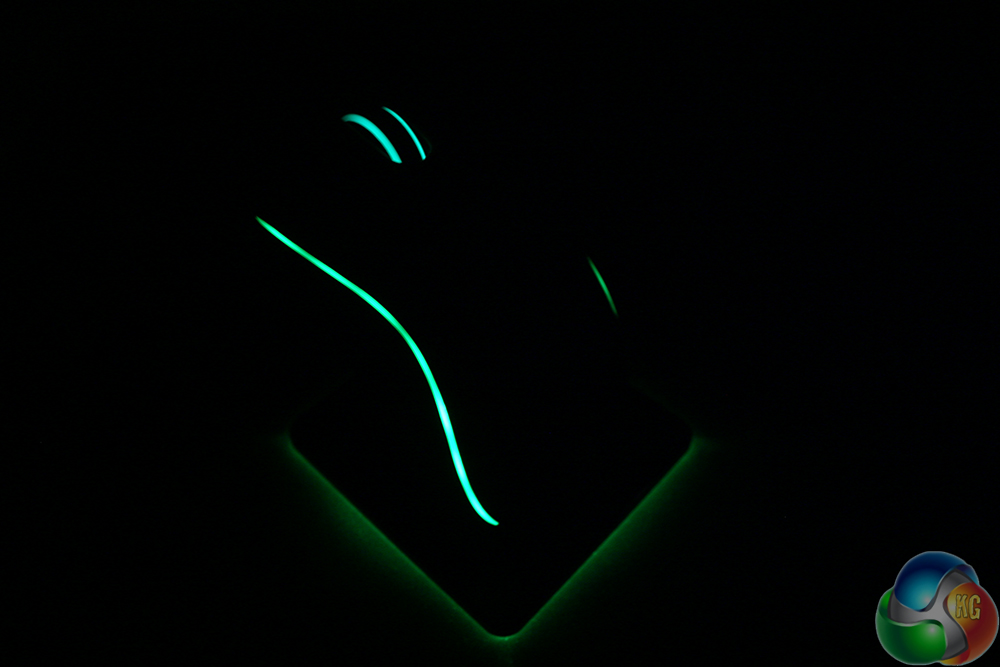 The uniform colouring between the mouse and its dock-station is very pretty

The DPI options for this mouse are really quite overkill and we never even came close to using it at 16,000 DPI in general gaming scenarios. That said, for those with multiple 4K screens, the higher options will likely be a boon and if you ever find yourself using in-game turrets that are slow turning, it is always handy to be able to raise your sensitivity on the fly to give you that bit of an edge.
Although seemingly a minor feature, the click strength adjustment screws on the underside of the Mamba are a really welcome addition. Those who like a stiff click, or more resistance to avoid miss-clicking will likely prefer the stronger setting, though we preferred the lighter end of the spectrum. Despite this, Razer does not offer settings so loose that you feel like it would be simple to click by accident.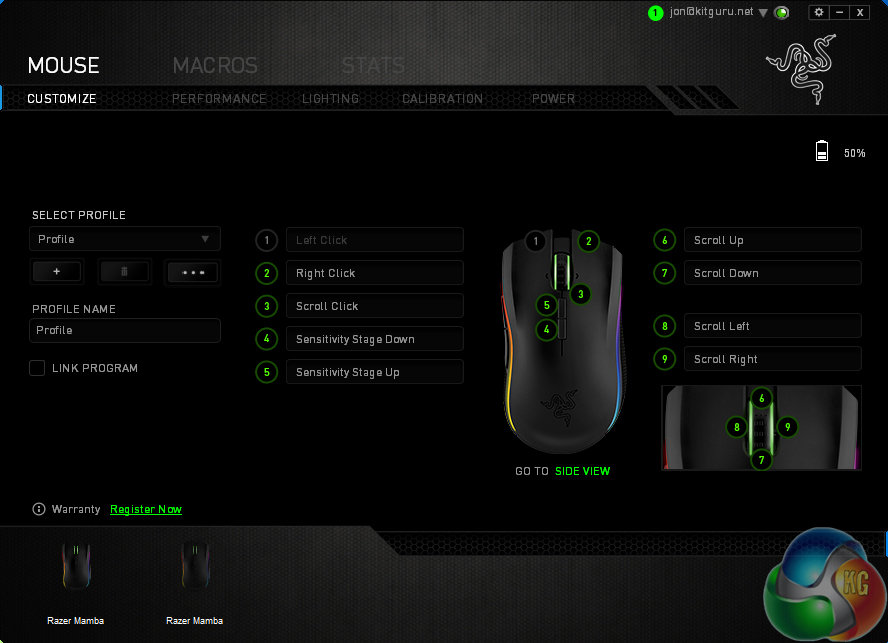 As with the Tournament Edition – which can still be managed on this install – the Mamba's software is second to none
There may also be some that find the use of a laser sensor over an optical sensor not to their taste, but unless you are a true perfectionist, it is difficult to feel any problems with the "5g" sensor aboard the Razer Mamba. It is fast and accurate and though it could be said that low-speed movements are not as accurate as higher speeds, I found it difficult to notice much of a difference from the high grade optical mouse I use daily.
Indeed laser does have its advantages too, working well on any surface, be it a cloth or aluminium mouse mat, or just the surface of your desk. That said, for the sake of the teflon feet, we would recommend something a little less likely to scratch.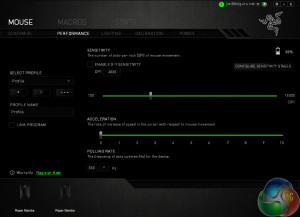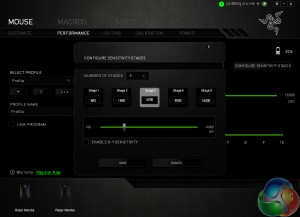 Sensitivity adjustments can be made manually, or the steps can be adjusted for on-the-fly switching
Although the sensor on the Razer Mamba can let you increase the DPI to the point where you cross a pair of 1080P screens in under half an inch, for those that like much lower sensitivities, lift-off distance is at default incredibly low, so there is never any unwanted tracking. It can be reduced even more in the back-end software.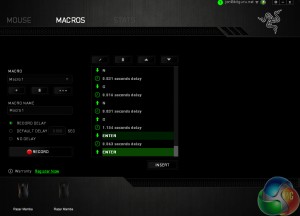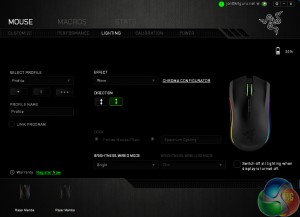 Macro and lighting options are deep and allow for lots of user customisation.
Outside of gaming, the Razer Mamba performs well, allowing for quick drops to low-DPI settings when performing detailed operations in Photoshop, as well as allowing for lots of button remapping and customisation. This is great for users who have common-use macros and commands that they like to pair to their gaming rodent. Of course there are not a lot of buttons on this mouse, so those who demand a plethora of custom commands for working or gaming purposes may wish to look elsewhere.
Comfort wise, the Razer Mamba does a great job over long periods of time, with the rubber side grips preventing any slips during particularly perspiring sessions – be they gaming or otherwise.
It is also a comfortable fit for the various grip styles, operating well for palm, finger and claw grips thanks to how far back the front buttons can be pressed. Some may find the dual DPI select buttons a little hard to press at times, but it is preferable to a single cycling button, as it allows for more control over the sensitivity.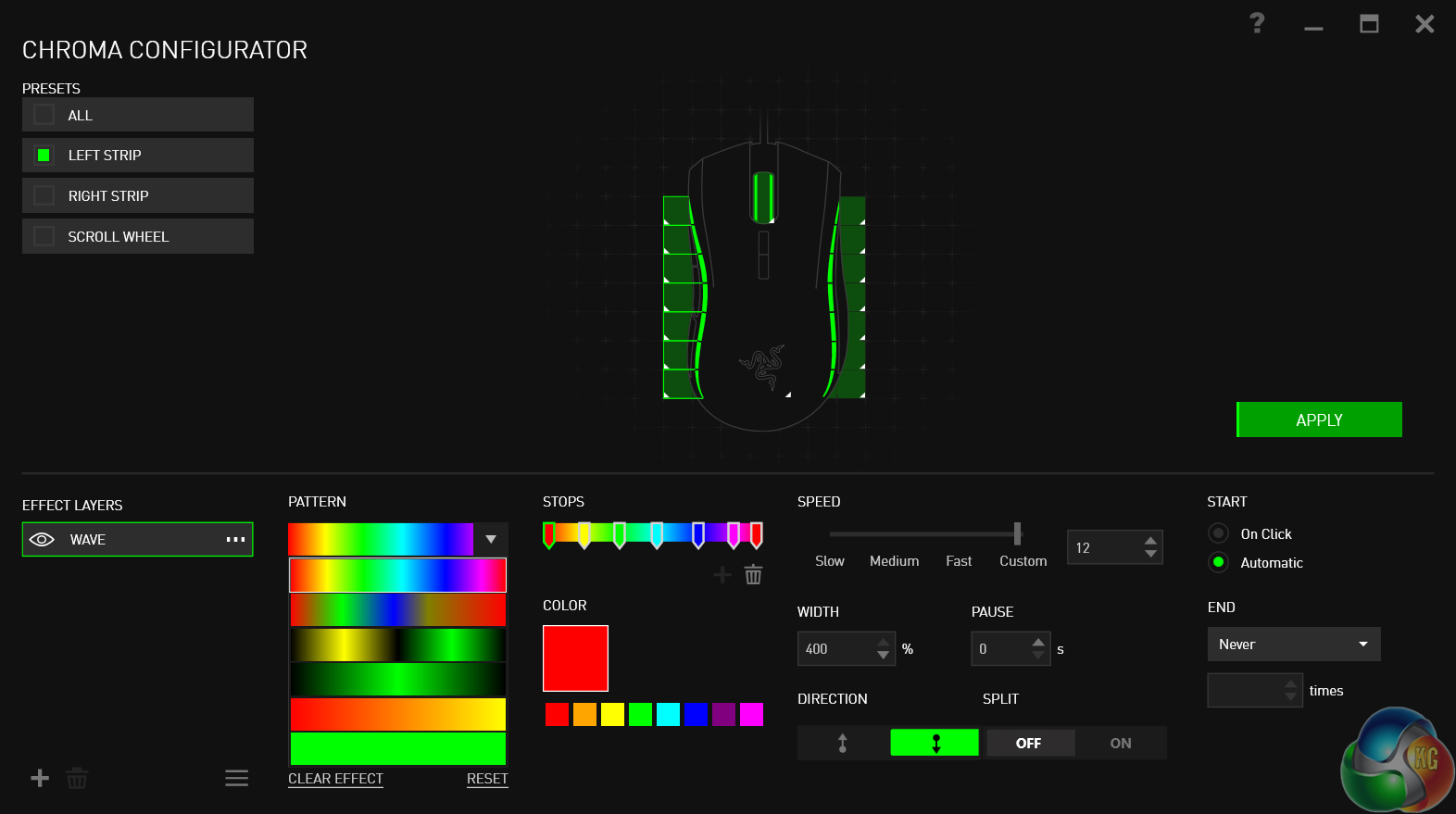 The Chroma lighting system is not only impressively deep, but easy to understand
The back end-end software is also particularly noteworthy. It is very deep and allows for near-unprecedented levels of customisation in regards to lighting and button remapping.
It also employs stat tracking, including click numbers, distance traveled and even heat maps for where you have been spending your time on the screen. This may be something that is useful for gamers looking to take their play to the next level.
The software is also able to save your settings in the cloud, and locally on the mouse itself, so wherever you play, your custom profiles and lighting will come with you. It can also link up with other Chroma enabled devices for unified lighting options.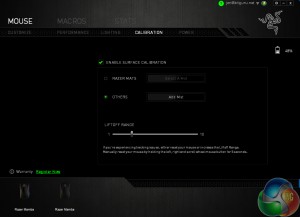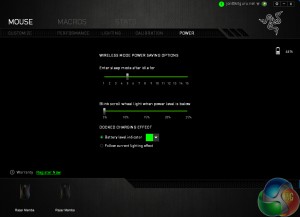 Lift off and power tweaks can be made in the back-end too
The only part that may prove a little troublesome for those interested, is the battery life. While the 20 hours that it is rated for is not bad, it is far from a lengthy period, especially if you tend to forget to put it on charge. That said, you can turn down lighting to 0, which will increase battery life a little more.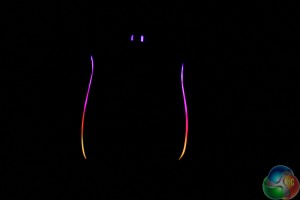 The Mamba 2015 RGB does charge up pretty quickly and the fact that you can use it in wired mode while it charges means there is no real down time.