The Divoom Voombox ships in a hard plastic case with a card sleeve wrapped around, listing speaker specifications and key features, such as battery life, Bluetooth and weather resistance.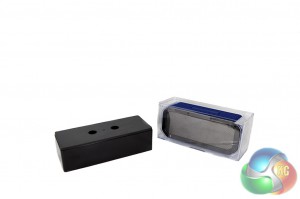 Once you take off the card sleeve, the box splits in to two parts, one containing the necessary cables and manual – the other holding the speaker.
In the box you will find the speaker itself, a USB charging cable, an audio cable, a wrist strap and a user manual. As you can see, the Voombox is indeed a rugged product. The rubber is thick and feels like it will protect well against drops.
On top of the speaker you will find all of the controls but unfortunately, there is no track skip option. This means you will need to have your playback device handy if you want to skip a song and are playing music wirelessly via Bluetooth.
On the side you will find the rubber flap protecting the USB and audio ports while on the other side you will find the attachment for the wrist rest. However, I do doubt that many people will actually want to strap this speaker to their wrist, it does have a bit of weight to it and is fairly bulky.