The court room drama that's been taking place between 3D Realms and Gearbox over the past year and a half with regards to who really owns the Duke Nukem brand, always felt a bit like a pair of dogs fighting over a dead horse, that they both wanted to beat some more. However now the fighting has stopped, for no particular reason it seems, but both parties have come out of the other side happy.
3D Realms seems for the most part to just be interested in developing Bombshell, its female Duke-alike, fifth person shooter. Instead of kicking up much of a fuss over the Duke Nukem property, it merely claims ignorance at this point.
"When Interceptor acquired a license to develop 'Duke Nukem Mass Destruction' ('Duke Nukem Survivor') from 3D Realms, we did so in good faith and were not aware of any conflict. We never intended to cause any harm to Gearbox or Duke," 3D Realms' CEO Mike Nielsen said in a statement.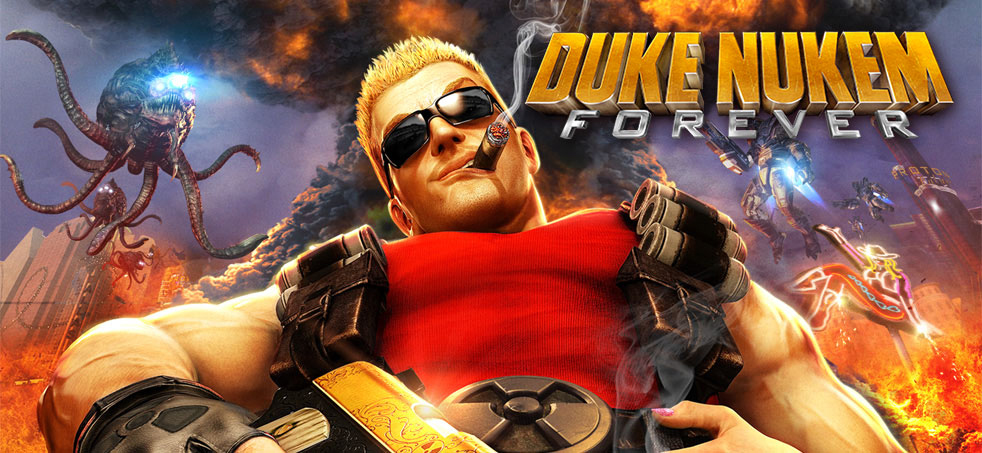 Who knew an X-rated Johnny Bravo crossed with Evil Dead's Ash Williams wouldn't work in the 21st century?
He went on to clarify that 3DR and Gearbox had 'agreed' that it would be best if Gearbox owned the IP solely and that it should be the only one to develop games based around the property.
Interceptor president, Frederik Schreiber, who also operates as vice president of 3D Realms, merely wanted to make himself sound as independent as possible, clarifying that Gearbox never forced him to stop work on anything.
"I want to make it clear now, once and for all – It was my own decision to pull the plug on Duke Nukem Reloaded (a game he was making in 2011), even though we were fully allowed to continue development." he said. "I respect Gearbox for supporting a young developer, and I'm glad we can now put this behind us."
PCGamesN has it that Gearbox was rather more vague, stating that it was happy to be known as the sole owner of the Duke Nukem franchise, but that there were also aspects of the deal that would not be disclosed.
Discuss on our Facebook page, HERE.
KitGuru Says: This seems like a bit of a legal mess that people got themselves into. Here's hoping that this outcome leads to zero Duke games in the future though. Forever made it quite clear that that franchise's ship has sailed.