There have been a lot of disappointing dinosaur games over the years, from many of the lacklustre Jurassic Park experiences, to more recent fare like the buggy and expensive The Hunter: Primal, or the Kickstarter disappearing act, The Stomping Land. Still, perhaps one developer can finally end this drought of dinosaur related gaming, with ARK: Survival Evolved, which features base building, survival gameplay and of course, dinosaurs to hunt, hide from and use as beasts of burden, all in a stunningly beautiful island setting.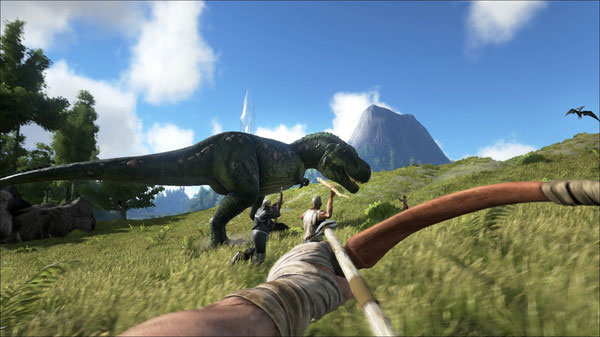 Built using Unreal Engine 4 by independent developer Studio Wildcard, the game sees players awaken on an island populated by dinosaurs. They have a bizarre metallic implant in their wrist and nothing to help them survive. By cooperating and competing with other players, gamers will gradually level up their character, earn new skills and abilities, while building bases, researching and crafting new weapons and hunting the local wildlife for survival. Beyond that it's all about warring with other clans of tens and hundreds of players, using ridable dinosaur mounts for added pulling power and carnage, whilst trying to figure out just why anyone is on the island in the first place.
[yframe url='http://www.youtube.com/watch?v=FW9vsrPWujI']
"ARK taps into the scale, size, and wildly unpredictable nature of the dinosaur eras like no other game before it, then pairs it with the wonders of exploration and technological discovery,"said Jesse Rapczak, co-founder and co-creative director, Studio Wildcard (via AGB). "We're particularly excited to bring ARK to consoles, as open-world survival gameplay is typically found solely in PC games."
Better yet, Studio Wildcard has promised Oculus Rift Support and support for the Steam Workshop, allowing mods, custom maps and more, making the game "player-oriented and ever expanding." Set to launch sometime in early 2016 on Xbox One, PS4 and PC, ARK: Survival Evolved will go into Early Access in early June this year, so it's not long until you can try your hand at dino-island survival.
Discuss on our Facebook page, HERE.
KitGuru Says: This looks much better than previous attempts at crafting a dinosaur dominated world. It's a lot prettier than anything anyone else has made either, which is always nice.