Cliffy B, Cliff Blezinski, or simply that guy the made some of the biggest shooter franchises ever, has announced that his self-imposed retirement has come to an end. The news was posted on his official twitter account, stating that he was ready to make games again.
It's not a comeback though, remember that:
"I'm officially coming out of retirement to make video games again. Stay tuned here for details in the next 7 days! #DontCallItAComeback," he said.
Presumably the game in question will be the one he's hinted at before with his concept art releases, which he said last year would be an arena shooter, but his ongoing messages seem to suggest it could be something quite different.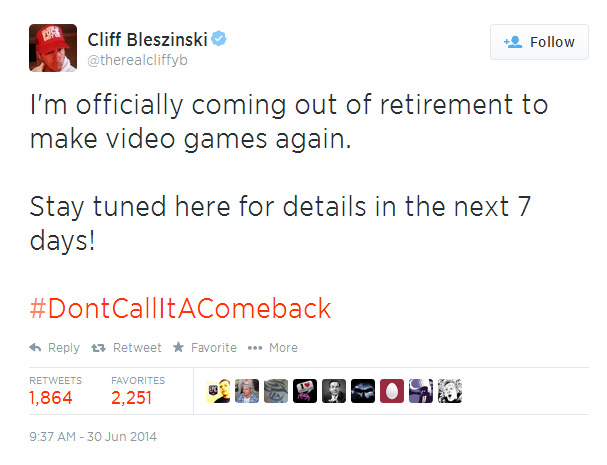 "It's going to be a blast to finally tell the story of what brought me back," he said in a follow up message.
Not much has been heard of Blezinski since he exited the industry back in 2012, amid claims that he needed a break after working at Epic games for over 20 years. He's maintained a blog and his social media accounts, but they've been fairly innocuous. He did make an empassioned plea to Phil Fish not to retire in the wake of hateful comments from fans and journalists and has tweeted concept art of an unknown game that he supposedly was working on, but it's all been hush-hush until now.
In the next week or so we should know what Cliffy B will be working on in the future. And it's not a Jazz Jackrabbit sequel, Epic owns those rights.
Discuss on our Facebook page, HERE.
KitGuru Says: What kind of game do you think Blezinski will be working on? It would be interesting if he went back to his point and click routes, but do you think he'll be too tempted to make a shooter?