Double Fine has one of the better legacies in the industry in terms of games put out. It's responsible for Psychonauts, Brutal Legend, Stacking, Costume Quest and its founder Tim Schafer was involved in some of the best point and clicks from the 90s and early 00s. However despite this pedigree, it's struggled in recent years when it comes to funding, with Broken Age going over budget and still unfinished, and now Spacebase DF-9 is being released early, with no further development to be put into it because it's not making enough to fund it.
When this news was announced last week, it understandably annoyed a few gamers, many of them Early Access buyers who felt that they had been sold something on the premise of future developments that would now no longer come true. To help explain the situation a little better and apologise for what's happened, Schafer took to the official Steam forums for the game and made a statement, as well as answering a few questions.
"We started Spacebase with an open ended-production plan, hoping that it would find similar success (and therefore funding) to the alpha-funded games that inspired it," Schafer began, referencing some of the more impressive alpha funded games from the last few years, like Minecraft and Kerbal Space Program. Ultimately he said, Double Fine had expected to spend upwards of five years developing Spacebase DF-9, but due to dwindling sales numbers, it's become no longer prudent to continue working on it as there isn't enough money to fund it.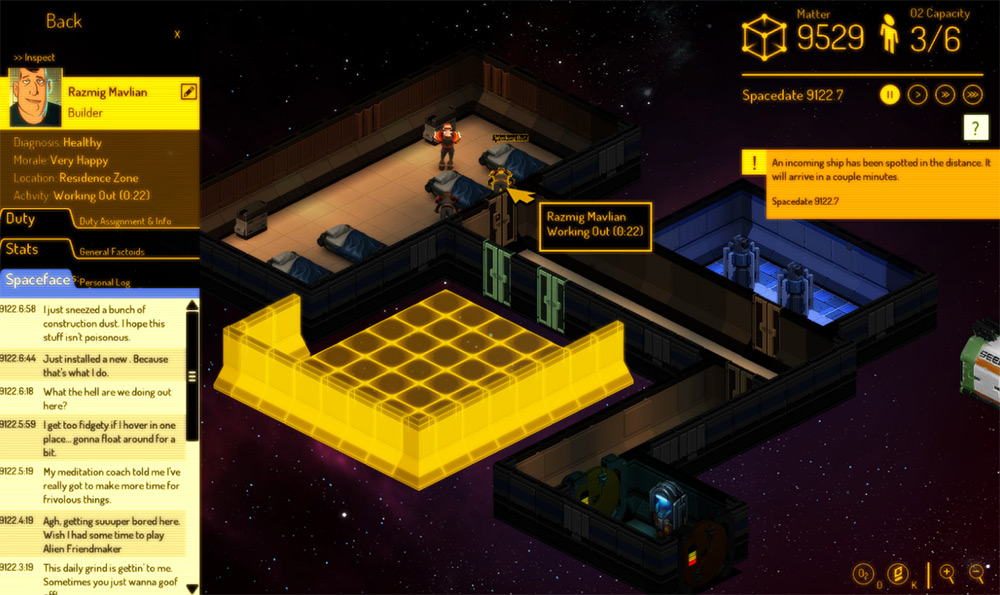 Schafer also apologised for leaving it this late in the day to talk about the news, suggesting that one of the biggest lessons the company had taken from its time working on Spacebase DF-9 was that it needs to communicate better with the fanbase.
"There should have been more communication to the players about the state of the game, and we apologize for that. But for us, it was never clear whether development was going to end because we always hoped that the next update would turn it around and allow us to extend development. So I suppose, ultimately, the answer was we always had hope we weren't going to end it, until the end."
Ultimately, he said that as disappointed as the fans were that the game wasn't going to reach the state that they hoped, he said that the developers and creators the most saddened by the news, as they wouldn't get to take the game to the heights it could perhaps have reached.
Fans still weren't entirely satisfied with these explanations however, some suggesting that this latest move showed Double Fine's lack of understanding of how some of the more successful Early Access games (again, like Minecraft, Kerbal Space Program etc.) worked. Those, they said, were complete games in that you could do a lot in them before anything beyond basic functions were added. Spacebase however wasn't in the same sort of state, so to expect it to generate enough income to fund further development was naive, they said.
This is especially the case if you sell a game at a finished price, but then don't finish it.
SpaceBase DF-9 is set for release on PC on 15th October.
Discuss on our Facebook page, HERE.
KitGuru Says: One caveat here is that DoubleFine will be releasing the game's source code along with it, so modders will at least be able to add the features that Double Fine promised.