Crytek is in a bit of a tough spot at the moment, that much is clear. Unfortunately for it, that means some of its best and brightest talents are likely to look for opportunities elsewhere. One of those people is Tiago Sousa, who has announced that he's left Crytek as lead research and designer graphics engineer and will now be working at id software on its latest engine and game.
Announced by Sousa on Twitter (he even went so far as to change his handle to reflect his new employment), the notice made it very clear that he would be contributing towards the development of the hinted at and teased Doom reboot, along with the engine that powers it, idTech 6.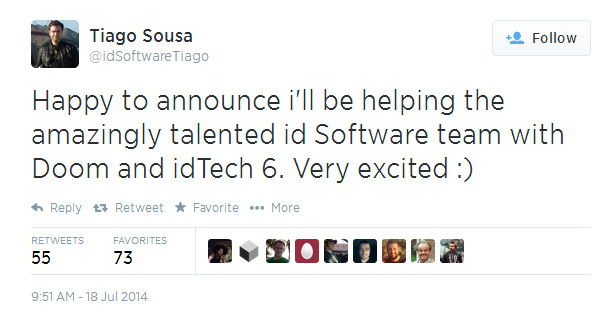 With Sousa's pedigree of graphics programming at Crytek, a studio known for its beautiful engines, it will interesting to see if any of his influences over the new id Software engine become apparent when it's available to other developers and indeed, when Doom is released sometime next year.
His official position at the new company is Lead Rendering Programmer, so you'd expect so.
Discuss on our Facebook page, HERE.

KitGuru Says: Sousa's been quite a company man since joining up with id, tweeting out links to a sale of Wolfenstein, as well as details on the QuakCon reveal. That's the feed of a man who's happy to be somewhere new and positive.