The Warhammer world has a lot of weird and wonderful creatures and contraptions, with giants, griffons, cannons and ball and chain swinging goblins being common place – they're a mad lot in the Old World. Perhaps not as mad as the wizards though, who tread that line between chaos and the light. Like those that play with the Luminark of Hysh, a bizarre machine of war created by the Wizards of the College of Light Magic. Concentrating its power into a single point, it has a devastating magical attack that will decimate the enemies of humanity.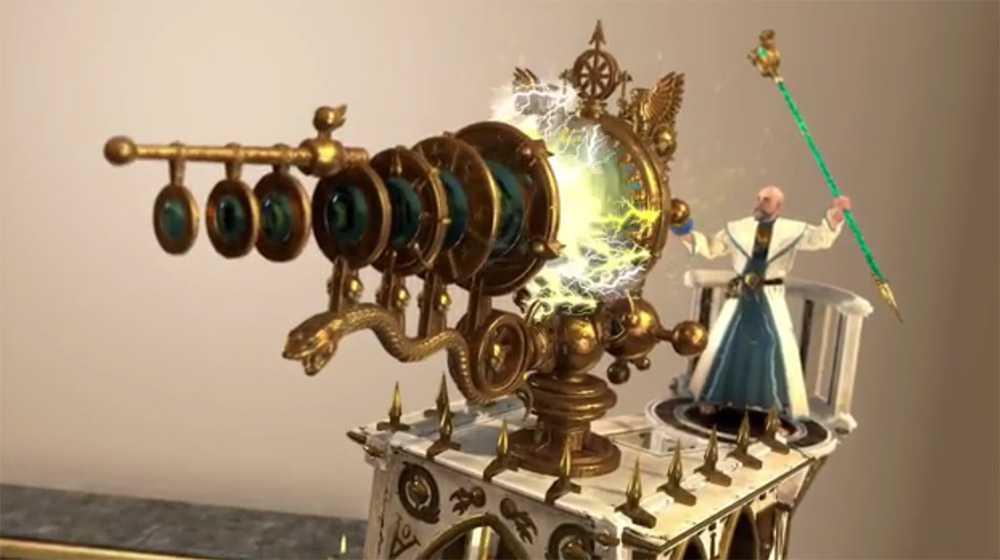 It is a bit of a glass cannon though, as at the end of the day, it's an ornate chariot with an old man on it, so don't expect it to hold up to a charge from wolf riders, or survive a barrage of ranged fire. If you can keep it far from harm though, it has the potential to be a real game changer.
[yframe url='http://www.youtube.com/watch?v=aEOwbKhEwik']
In its debut showing, Creative Assembly not only breaks down what the war machine is all about, but shows off its development, from concept art through to its final skinned and fully ainmated version. While you wouldn't expect there to much in the way of action in the aesthetics of such a machine, the successive magnifying lenses spin up the winds of magic, which looks rather fantastic in action.
A new in-game trailer is coming soon, which we're told towards the tail end of this video, will feature the Luminark of Hysh, so keep your eyes peeled.
Discuss on our Facebook page, HERE.
KitGuru Says: The detail that has gone into some of these units is fantastic. I am beyond pumped for the final release. My orcish hordes will decimate all that stand before them.