In a world where game developers and publishers come and go, folding, founding, merging and being bought out by larger entities, Valve has been a real constant for the past two decades. It's given us a lot of big games and big milestones in gaming, so today we celebrate its (belated) 20th birthday.
Valve was founded by Gabe Newell on 24th August, 1996, along with Mike Harrington, after they both left Microsoft after many years working on early versions of Windows. Funds earned during their time there were what allowed Valve to operate for its first few years, letting the company develop its very first game; a game that would change the industry: Half-Life.
Described by many as the best PC game ever made, Half-Life pioneered many techniques in first person shooters and gaming in general, a number of which are still in use today. It ditched cut-scenes in favour of in-game dialogue and action and really pushed the Quake Engine that it was built on, to deliver cutting edge graphics.
As a major success, with millions of copies sold, Half-Life funded the future of Valve, which allowed it to work on mod projects and spin-offs for the series. After hiring on the team behind the Quake Mod, Team Fortress, Valve released that game mode in 1999 and teamed up with Gearbox Software to co-develop expansion packs Half-Life: Opposing Force and Half-Life: Blue Shift, which offered different perspectives on the original Half-Life Story.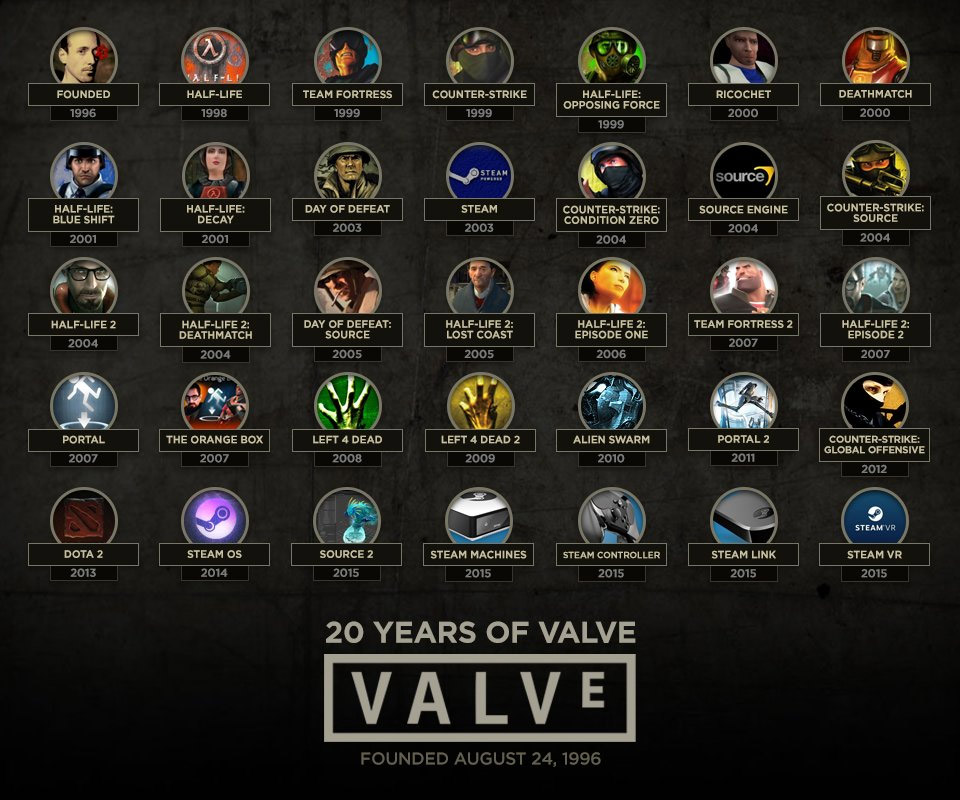 Source: Wykrhm Reddy/Twitter
From there, game releases snowballed. There was Counter Strike, Richochet and Day of Defeat, all of which were originally mods for Half Life which Valve acquired and released itself.
Steam's development began in 2002, with several companies – Microsoft included – asked to co-develop the project, but they declined. Valve eventually released the platform in 2003, along with the beta for Counter Strike 1.6. It was a mandatory install, which many people weren't happy with, but it made the distribution of patches easier and provided new anti-cheat measures.
It was only years later that it would become the behemoth store we know today, with follow up releases like Counter Strike: Source and Half Life 2, helping to increase its uptake.
But of course Valve didn't stop there. Over the following years it acquired more mod teams, more technologies, more developers and released games like Portal, Left 4 Dead, Alien Swarm and perhaps it's biggest eventual earner, DotA 2. Today it has more of a hardware focus, with Steam Machines, Steam Controllers, Steam Link and Steam VR at the fore.
Though of course there is always a hope that Half-Life 3 will one day surface.
Discuss on our Facebook page, HERE.
KitGuru Says: Happy birthday Valve. That's quite a library of achievements. Keep up the good work.