Mesh wifi has proven ability to extend your wireless networking a much greater distance around your home than a standalone router, and ASUS has been producing products to take advantage of this technology almost as long as the pure networking brands like NETGEAR and Linksys. The original Lyra was a capable triple-unit system from nearly three years ago, but with the ZenWiFi range ASUS is upping the specification, offering WiFi 5 and 6 versions. Here we're taking a look at the WiFi 5 AC (CT8) AC3000 option.
It might seem a false economy to be opting for an AC mesh system when AX ones are on the market, but they're at a huge premium. NETGEAR's Orbi WiFi 6 AX6000 is a whopping £700, and while ASUS's equivalent is cheaper, it's still over £400 when this AC version is £280. Its performance may be all you need, and WiFi 6 clients are still few and far between.
Unlike the Lyra, the ZenWiFi AC only uses two units. However, the tri-band radios have been upgraded from AC2200 to AC3000, which is the same as NETGEAR's original Orbi, so it potentially offers similar or better coverage. This is broken down into 1,733Mbits/sec 5GHz with 4×4 antennas dedicated to the 802.11ac "backhaul" between the two units, plus 400Mbits/sec of 2.4GHz 802.11n and 866Mbits/sec of 5GHz 802.11ac for the client devices on the router and satellite.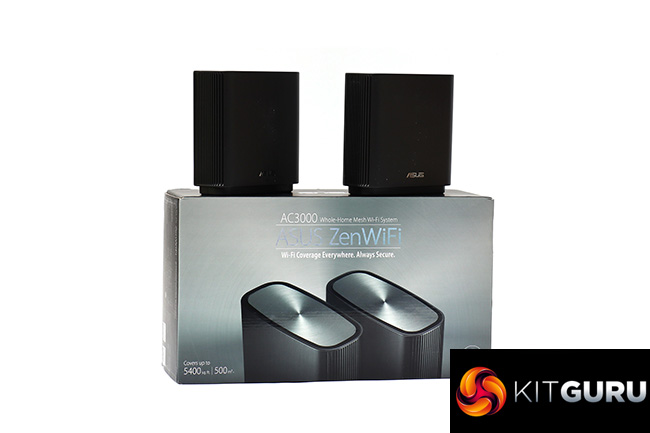 We say router and satellite, but the two units are identical. Both have a Gigabit Ethernet port labelled for the WAN, and three further Gigabit ports for wired devices. Both also have a single USB 3.1 Gen 1 connection, which can be used for network storage or printer sharing – a handy bonus that is lacking on NETGEAR's Orbis.
They're compact little units and at £280 not hugely pricey considering the top-of-the range specification. NETGEAR's Orbi AC3000 is still a bit more expensive at over £300. So the ASUS ZenWiFi has a fair bit going for it on paper. Let's find out how it performs.
Price: £279.99
Specification:
Wireless protocols: MU-MIMO with 802.11b/g/n 2.4GHz, 802.11a/n/ac 5GHz
Performance: AC3000 (1,733 + 866 + 400 Mbits/sec)
Antenna Configuration: 2×2 internal antennas for 2.4 and 5GHz; 4×4 for 5GHz only (6 total)
Ports: Router and Satellite: 1 x Gigabit Ethernet WAN, 3 x Gigabit Ethernet, 1 x USB 3.1 Gen 1
Modem Support: VDSL/ADSL 2+ or cable
Be sure to check out our sponsors store EKWB here