Chances are, if you are hooked up to the service of one of the UK's largest ISPs, then the answer to the above question is, yes. Data from a new survey conducted by Which? magazine, suggests that some of the most highly appreciated ISPs are often the smallest ones, with only one of the five biggest in the UK recording a customer satisfaction level above 50 per cent.
In contrast, Britain's smaller ISPs like Plusnet (admittedly, a branch of BT), Zen Internet, Utility Warehouse and John Lewis Broadband, all have satisfaction levels over 70 per cent. In contrast, BT received just a 45 per cent approval rating, scoring two out of five stars on value for money and technical support. TalkTalk received similarly bad results, taking home two stars for speed and technical support and a customer satisfaction of just 48 per cent, according to The Telegraph.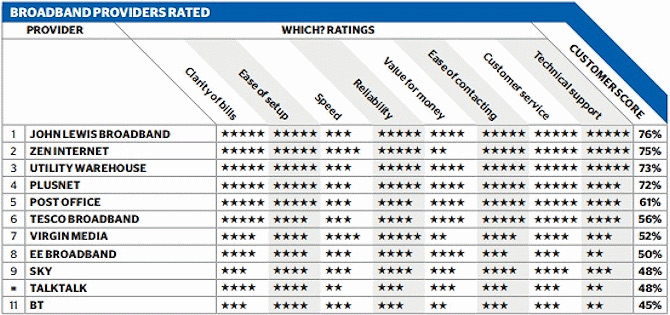 However even though the smaller firms did far better in many categories, like reliability, ease of connection and the clarity of their bills, one category that almost every firm failed at across the board, was speed. Only Zen Internet and Virgin media received anything above a three star rating.
The reason for that, Which? believes, is because in order to advertise a package to customers with a specific speed, only 10 per cent of them need to receive that rated performance. Having spoken with regulator OfCom and the Committee of Advertising Practice, Which? hopes that ISPs will in the future have to be far more forthcoming with actual speeds in their adverts, instead of sticking to ambiguous terms that suggest high bandwidth. Similarly so,it hopes that advertising regulations will be changed to make is so that more accurate information will be given about the kinds of speeds that customers can actually expected to see.
To help encourage companies to make these changes without regulatory bodies weighing in though, it's started a campaign for customers to sign up to, to pledge their support for those that act voluntarily.
Discuss on our Facebook page, HERE.
KitGuru Says: I'm pretty happy with the PlusNet package I have, but I'm still waiting on BT to upgrade the local infrastructure so fibre is possible. The downside of living in the sticks I suppose. 
Which broadband provider are you guys with and are you happy with their service?
Image source: Mike Cathell