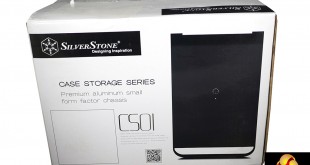 SilverStone CS01-HS is a type of PC case we haven't seen before as it is intended for customers who want to build their own NAS. CS-01 (it stands for Case Storage) is a Mini-ITX case that supports 2x 2.5-inch drives and 2x 3.5-inch drives while this HS (Hot Swap) version exchanges the two 3.5-inch bays for six hot swap 2.5-inch bays.
Watch via our VIMEO Channel (Below) or over on YouTube at 1080p60 HERE
If you are keeping count this means the SilverStone CS01-HS supports a total of eight 2.5-inch bays which is novel to say the least.
Specification:
Motherboard support: Mini-ITX.
Expansion slots: 1.
Included fans: 1x 120mm bottom intake.
Fan mounts: None.
Radiator mounts: None.
5.25″ drive bays: None.
Internal drive bays: 8×2.5″.
Dimensions: 322mm H x 210mm D x 322mm W.
The SilverStone CS01-HS has an unusual layout, in part to preserve the cosmetically clean lines but also to help airflow through the case. The aluminium front panel is smart and minimalist with only a power button on the front, plumb in the centre. Unusually the I/O panel is on the top of the case but sunk out of sight and hidden away when you look at the SilverStone CS01-HS from the front. The two additional USB 3.0 ports which would usually be front mounted are actually positioned right next to the I/O panel alongside the mains power connector.
Also on top of the case, next to the I/O panel, you will find a half height expansion slot. In most small form factor PCs this slot would be used for a graphics card but in the SilverStone CS01-HS it is more likely to be used for a storage controller. After all, your Mini-ITX motherboard probably doesn't support eight storage drives, and you may need to add more SATA or SAS connections, or perhaps a RAID card.
The six hot swap bays are mounted in a caddy that is powered by two four-pin Molex connectors so while you need one data cable for each drive the power requirements are actually quite light.
The other aspect of the layout, as mentioned, relates to airflow, Air is drawn in through the large filtered opening at the bottom of the case by the 120mm Air Penetrator case fan and then blown vertically upwards across the motherboard and past the drive bays.
As you will see in our video the size of the case imposes certain limits on the components you can use. The SFX power supply can have a maximum length of 130mm, the CPU cooler must stand less than 68mm high and if you want to use those two case mounted ports your Mini-ITX motherboard had better have a USB 3.0 header.
Happily the SilverStone 600W Gold SFX power supply and AR06 CPU cooler we used fitted the bill to perfection.
Building the NAS was slightly fiddly but once the two side panels were off the job was as easy as you might hope. You will definitely need to use a short Phillips screwdriver that can fit inside the case, but other than that it is plain sailing.
Testing
For once we have no thermal figures for a case review as they are simply irrelevant. In a NAS the CPU doesn't work very hard and our chosen Pentium G3258 on an Asus Z87I-Pro motherboard was barely ticking over. Under heavy load in a regular PC this CPU operates at a low temperature but in this NAS environment it was only a few degrees above room temperature. It was clear the case flowed air very nicely but also obvious the amount of airflow that was required was utterly trivial.
Closing Thoughts
If you're looking to build your own NAS from scratch the SilverStone CS01-HS is a superb case for the job. That is, however, a very large 'if' as very few people build a NAS using 2.5-inch drives and install an Operating System themselves.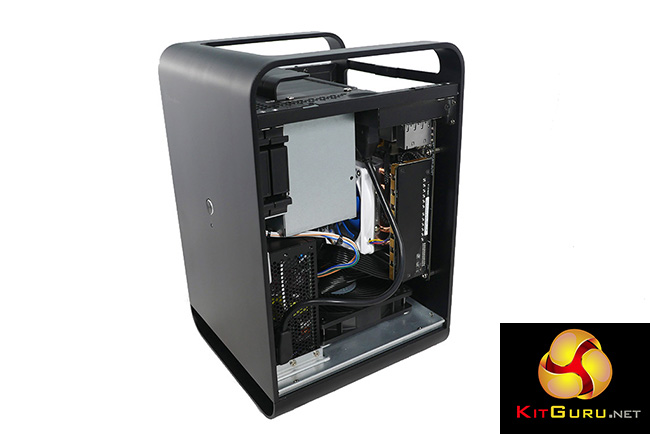 We are confident that most people will regard the SilverStone CS01-HS as a quirky little number but the handful of enthusiasts who want this sort of hardware will be absolutely ecstatic. It is unusual, very well made, beautifully designed and almost entirely perfect but also a very specialised and niche product.
Discuss on our Facebook page, over HERE.
Pros:
Lovely styling. Aluminium over steel construction.
Accommodates six or seven storage drives plus an OS drive.
Decent access inside the case despite its small size.
The 120mm Air Penetrator case fan is shrouded to prevent cables getting damaged.
Hot swap caddy is powered so you don't need a stack of SATA power connectors.
Low profile expansion slot allows you to add a storage controller.
Very quiet operation.
Cons:
Limited to 2.5-inch drives.
You have to choose your components carefully to get the most from CS01-HS.
The hardware required to build the NAS will cost quite a lot.
How many people build their own NAS right down to the Operating System?
KitGuru says: SilverStone CS01-HS is unusual – possibly unique – and very nicely done.