Setting up the My Cloud Home is very easy thanks to the useful little card WD bundle with the drive, which clearly walks you through the initial setting up of the device. Basically It's matter of simply plugging it into a Wi-Fi router (or via a switch connected to one) and connecting it to the mains.
Next job is to access the Mycloud website –  mycloud.com/hello, which can be done with either a PC or an iOS/Android phone to setup up the MyCloud account – or if you have one already, you simply sign in.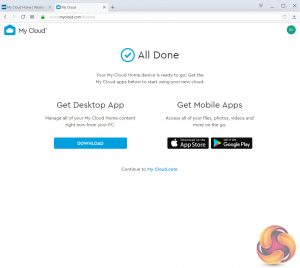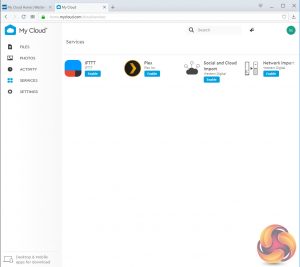 After the initial setting up is done, there are three ways of configuring the My Cloud Home.
Clicking on the Get Desktop App begins the download for the MyCloud Home Desktop app which is based around the Western Digital (Windows or Mac) Discovery software.
Then there is MyCloud Web App which uses an Internet browser for quick access regardless of the operating system.
Finally there is the My Cloud Home Mobile App for Android or Mac which is downloaded from either the Google Play or the Apple AppStore.
Integrated into the My Cloud Home mobile app are IFTTT and Plex along with sync support for Dropbox, Google Drive and OneDrive, amongst others. However some apps are noticeable by their absence – any DNLA servers and iTunes for example. A useful app if you have data on an original My Cloud unit is Network Import which allows the importing or copying data from the old unit to the newer model.
The Mobile App lets you view files on a smartphone and you can also setup the automatic back up of photos from the phone to  My Cloud Home. You can also share content by sending out invitations (the invitees will then be prompted to create a My Cloud account or sign into one).
Connect a USB drive to the My Cloud Home unit and the contents of the drive can be backup up onto the device but you can't backup the My Cloud Home directly back down to a USB device. To back it up you have to resort to using backup software or by dragging and dropping data via Windows file manager.