During the NAB 2017 event, Intel has announced a spruced-up Visual Computer Accelerator, the second of its kind, to take video-crunching to the cloud.
With HD and UHD Video workloads in mind, the Visual Compute Accelerator 2  (VCA 2) has been designed with the purpose of creating smooth real-time UHD transcoding, live UHD VR experiences and reduce overall video footprint.
While it looks like a duck and walks like a duck, this is not a graphics card. Intel has equipped this single board computer with three Xeon E3 v5 processors (i.e. Skylake), containing P580 Iris Pro Graphics. The CPUs themselves operate at 3 GHz (3.7 GHz boost), and the board takes SO-DIMMs (2 channels per CPU, up to 64GB DDR4 per CPU). Power consumption figures were not disclosed, nor how the device is powered, but we estimate somewhere around the 200W mark. A single card also soaks up a full 16 lanes on a PCIe 3.0 bus, so the hardware really requires a high-end platform to be installed in. This being said, the VCA 2 will not be sold to the general public, but rather be integrated into hardware like Haivision's KB 4K encoder. Haivision is the first partner to announce such a product.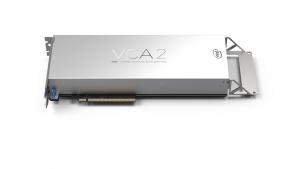 While the VCA 2 is touted as a solution for video encoding/transcoding on the fly, it is in essence a server-within-a-server, and can be used for just about any cloud-based service you'd be interested, anything from game servers to secure remote desktops. It's all about the horsepower.
Intel did not disclose pricing of the product, but availability is as of right now.
KitGuru Says: Video Streaming seems to be the engine driving the Internet this year, and so the marketing brains have all crafted their messages towards a "video-orientated" product. The VCA 2, however, is a lot more than a number-cruncher for video.