Subscription based gaming is on the up, with PS Now allowing for PC gamers to get their hands on PlayStation exclusives and the more recent Jump service that aims to be "Netflix for indie games." Now, another platform is throwing its hat in the ring, with Dropleaf aiming for "all-you-can-play indie PC games."
Dropleaf is pioneered by Microsoft veteran Zi Guo, who worked on the Holoens and Windows itself. His aim is to address the problem surrounding the ecosystem and indie games, emphasising the focus on developers as well as gamers.
"Indie developers are getting buried by major studios, meaning that their new releases will likely never reach their target audiences on platforms like Steam, and their back catalogs get even less attention. When developers don't make money, they can't make games, and it means there could be so many more gaming experiences out there."
Often, indie games would peak for a time before dipping off of Steam's recommendations quite quickly, namely in favour of bigger games from bigger developers. Dropleaf has a recommendation system in place, in which games with similarities will be suggested to players. It also "learns what types of games [players] enjoy the most," becoming more accurate the more gamers keep playing.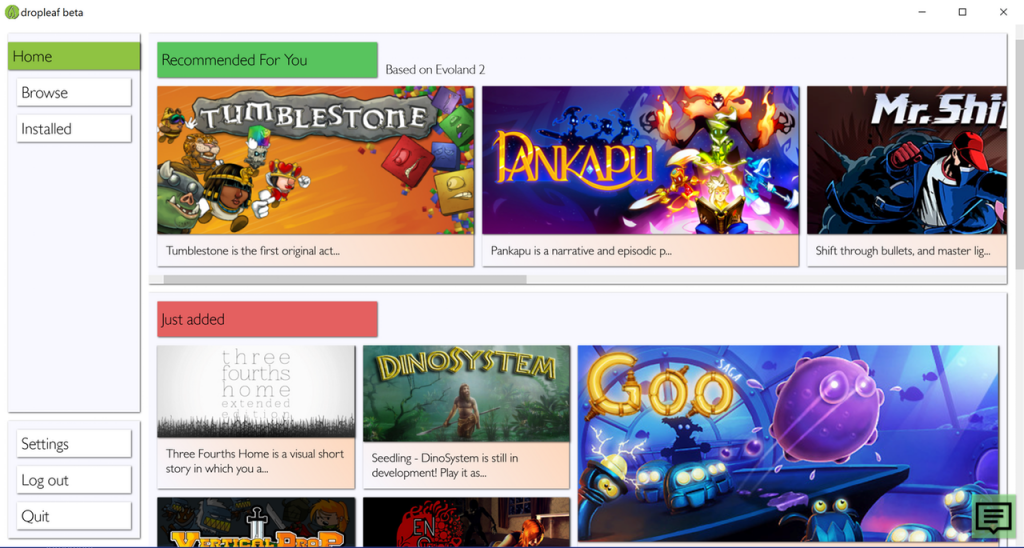 Developers profit via a "revenue share model," in which they get paid every time that their game is played. This means that every game that a developer makes has a chance of staying relevant and bringing in revenue as all games are in rotation within the recommendation system.
Dropleaf has a focus on diversity, addressing the "problem with toxic communities" by "featuring the work of developers from … women, people of color, LGBTQ folks, and other marginalized groups." Alongside this, the service has a zero-tolerance policy on harassment and wants to feature "the voices of less-amplified gamers and industry workers."
Dropleaf are offering a 14-day free trial followed by a $4.99 monthly cost that grants access to a growing library, currently consisting of 44 games. Games are downloaded directly to your computer, meaning no streaming. I can already hear the sigh of those suffering from poor ISPs.
KitGuru Says: It looks like gamers now have options on how they want to play their indie games. How does the subscription model work for you? Are you interested in trying out Jump or Dropleaf?