Over the years Edifier has earned a well deserved reputation for high-quality speakers and audio gear. At CES 2021, the company unveiled three new products – the D12 Bluetooth speakers, as well as two pairs of TWS earphones.
Starting with the D12 speakers, these utilise Bluetooth 5.0 connectivity with a wood grain finish housing. Each unit features 2x 20W bass speakers and 2x 15W treble speakers, which offer 'beautifully balanced sound with high-low frequency separation and deeper tones not previously found in traditional desktop speakers' according to Edifier. These speakers are set to retail for just $99, launching on February 20.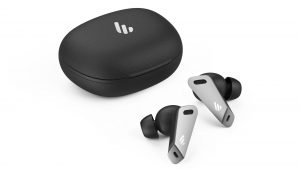 In terms of the company's new earphones, well start with the TWS NB2 Pro. These sport a rather futuristic design, and Edifier says they offer 'over-ear noise-canceling headphone technology in a stylish low-profile true wireless earphone package'. Thanks to a Qualcomm chipset and lithium battery, Edifier claims 7 hours of usage with ANC on, or up to 9 hours with ANC turned off. The included charge case can also provide an extra 23 hours of play time, while fast charging means a 15-minute charge should be enough for two hours of listening.
These earphones also sport Bluetooth 5.0 and IP54 certification for dust and splash resistance. TWS NB2 Pro is set to launch in March, also for $99.
Lastly, Edifier also introduced the GM5 gaming earphones. These utilise Qualcomm AptX low-latency technology, so 'level after level can be completed without any lagging or low battery notifications for gamers, streamers, or mobile show bingers' according to Edifier. The company also says 'countless trials and tests' were conducted to make sure these earphones make the grade for gamers.
There's also a rated 8-hour playback time and an extra 32 hours from the charging case. GM5 doesn't support ANC, but there is ENC, while Edifier also provides two different audio profiles. GM5 also supports the quick pausing of music by removing an earbud from your ear. Just like the TWS NB2 Pro, we can expect availability in March, with pricing set at $79.
KitGuru says: I quite like the look of the TWS NB2 Pro. Do you currently use TWS earphones?