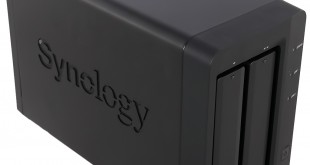 Synology's DiskStation DS715 borrows an interesting feature from the DS1515 that we recently reviewed. Look on the rear panel of this dual bay NAS and you will see that in addition to the dual Gigabit Ethernet and two USB 3.0 ports you also get an eSATA connector. This port can be used to connect a DX513 expansion unit (which costs £340) that can house an additional five hard drives. In other words this dual bay NAS can be transformed into a seven bay NAS which has a huge effect on the maximum capacity and also means you can explore the options of RAID 5 with a parity drive to protect your data, or you can divide the drives into a number of arrays. You get many more options with seven drives than you do with two but while this is interesting we don't have the DX513 to hand and are considering the DS715 purely as a dual bay NAS.
Watch via our Vimeo Channel (Below) or over on YouTube HERE
The hardware inside DS715 is very similar to the DS1515 as they share the quad core 1.4GHz Annapurna Labs Alpine AL-314 CPU and 2GB DDR3 RAM. The smaller physical size of the DS715 means it has dual Gigabit Ethernet, rather than the four ports on DS1515, and there is a single 92mm cooling fan at the rear of the chassis.

Highlighted features
CPU model Annapurna Labs Alpine AL-314
CPU spec 1.4Hz Quad Core with hardware encryption engine and floating point unit
Memory 2GB DDR3
Claimed Read speed over 216.1MB/second
Claimed Write speed over 142.5MB/second
Drive bays 2 (up to 7 with expansion unit)
Compatible drive types 2.5" SSD or HDD, 3.5" HDD
Maximum capacity 16TB (2x 8TB)
Ports 2x USB 3.0, 1x eSATA
File system EXT4
Network 2x RJ45 Gigabit Ethernet with Link Aggregation
Cooling 1x 92mm fan
Power supply 72W
Warranty 2 years
Slipping two 4TB WD Red NAS drives in the tool-free caddies was quick and easy. The drives are retained by clip-on rails and then the caddies slide into place in the front of the chassis. Turning on the power, waiting a few seconds then downloading and installing Synology DSM 5.2 is also quick, simple and easy.
The Western Digital drives had previously been used in another NAS so we had to leave the system for about an hour to run a full check and satisfy itself that all was well. During this time the NAS is fully functional but would likely run at reduced speed so it was better to be safe than sorry.
Software
DSM (Disk Station Manager) 5.2 is the latest Synology Operating System and it works admirably well. You can install software from the Synology Package Centre, for example, if you wish to add an anti virus package to your NAS or control some IP cameras.
The most appealing part of DSM, apart from the big, friendly icons and buttons, is the way it lets you get on with basic NAS tasks with the minimum of fuss. On the other hand if you feel the urge to delve deeper you will find a stack of features lurking just a short distance away. Features such as link aggregation (where you combine more than one network port in a single network connection) are not thrust in your face but neither are they difficult to find and employ.
Testing
We tested the Synology DS715 with two WD Red 4TB NAS hard drives. Testing the Synology DS715 was a straightforward matter of uploading and downloading files with a stopwatch in one hand while keeping an eagle eye on the progress bar.
The test files consist of a 3.3GB MKV movie file and a 500MB folder of music MP3 files. Synology zips multiple files together for download so when you download three 3.3GB files they are zipped in a single archive.
This has a noticeable effect when you transfer smaller files and led us to try the same trick when we uploaded a bunch of music files to the Synology. Uploading a folder of files took 53 seconds while uploading the same files in a single zipped archive only took 6.6 seconds.
That is a colossal difference in speed and while it is tempting to point the finger at Synology and criticise the way the DS715 handles small files there is room for doubt as this may be due to the way the JAVA plug-in works in the browser.
Our real world transfer speeds were in the region of 80MB/second-110MB/second download and 80MB/second upload. Performance of this two bay NAS is impressive, but when you consider the hardware has been borrowed from the DS1515 that doesn't come as much of a surprise.
Closing Thoughts
The Synology DS715 is limited by only having two bays as you are pretty much obliged to use a mirrored array with one drive copied to the second drive.
The idea that you can connect a £340 DX513 expansion unit sounds like a neat idea but in practice it leaves us baffled. If you think you might want three or four drives then it makes sense to buy an Atom powered DS415+ for £430 and if you want five drives the DS1515 costs £549.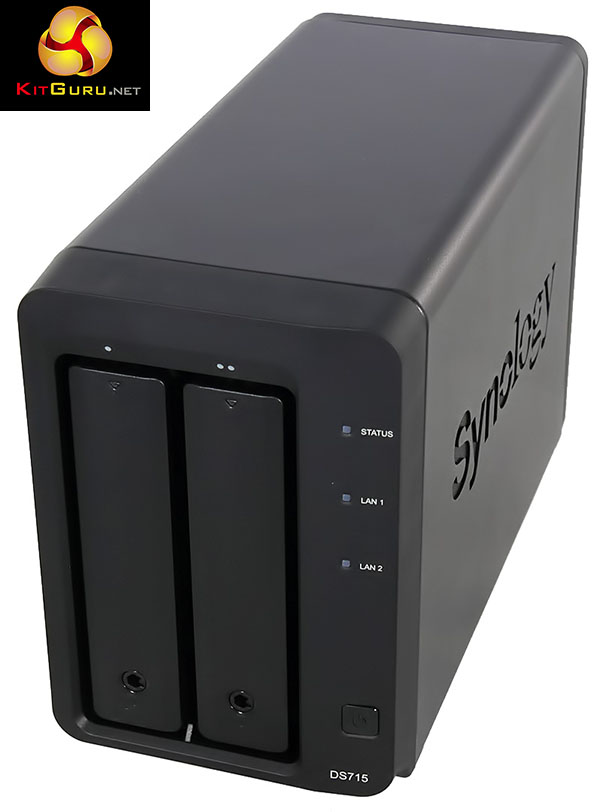 It seems unlikely you will want either six or seven drives so the appeal of the DS715 with DX513 is none too obvious, however if that scenario describes you then your course of action is clear. The hardware used in DS715 is beyond reproach and DSM 5.2 software is an accomplished package.
Pros:
Speedy quad core processor.
DSM 5.2 software.
Very quiet operation.
Two USB 3.0 ports.
Tool-free drive bays.
External power adapter keeps the DS715 nice and small.
Cons:
Expanding the DS715 with DX513 seems an unlikely scenario.
The price is high but that is true of most Synology products.
KitGuru says: The Synology DiskStation DS715 is a great little NAS and comes highly recommended.