At Computex today, ASUS Chairman, Jonney Shih took to the stage to present 'The Edge of Beyond', which appears to be the ASUS mission statement for Computex this year. During this event we saw five new laptops announced, alongside a new smartphone, two all-in-one PCs and a new 'Designo' monitor.
Let's start off with the laptops. Above, you will see all five laptops that ASUS announced today. The ZenBook Flip S (UX370) is the world's thinnest convertible laptop, featuring a 360 degree flippable display, powered by an Intel Core i7-7500U, with a 1TB PCIe SSD inside.
The ZenBook Pro (UX550) is more of a typical thin and light machine, packing an Intel Core i7-7700HQ CPU, 16GB of DDR4 RAM and a GTX 1050Ti all while promising up to 14 hours of battery life. It comes with a 4K NanoEdge display, allowing for a super slim 7.3mm bezel, with the whole laptop measuring in at 18.9mm thick and 1.8kg light.
The ASUS ZenBook 3 Deluxe (UX490) is poised as the world's thinnest 14-inch laptop, measuring in at 12.9mm thin while weighing just 1.1kg. This particular laptop is designed to deliver high performance in a super portable package, with an Intel Core i7-7500U, up to 16GB of LPDDR3 memory and a 1TB PCIe SSD. For connectivity, you get two USB Type C ports, similarly to Apple's latest MacBook Pro.
The ASUS VivoBook Pro 15 (N580) is another productivity focussed powerhouse, featuring an Intel Core i7-7700HQ, 16GB of DDR4 RAM and a GTX 1050 graphics card. You get a hybrid storage solution, with a 2TB hard drive and a 512GB SSD, a 4K Ultra-HD display, Harman-Kardon certified audio, a fingerprint sensor and support for the ASUS Pen.
The final laptop on today's list is the ASUS VivoBook (S510), the most premium model in the VivoBook series. This is a 15.6-inch Windows 10 laptop measuring in at 17.9mm thick. The NanoEdge display makes its return in this laptop, offering a tiny 7.8mm bezel, while under the hood, an Intel Core i7-7500U is running the show. That is paired up with 16GB of DDR4 RAM and an Nvidia GeForce 940MX GPU.
There was nothing ROG related on show at this particular event, so gamers will want to look elsewhere.
Aside from the slew of laptops, ASUS also announced the ZenFone AR, a thin and light smartphone featuring Google's Project Tango technology, alongside support for Google's Daydream VR platform. This particular smartphone is largely focussed on augmented reality, using the ASUS TriCam, a three-camera system consisting of a 23MP main camera, a motion tracking camera and a depth sensing camera. Under the hood, you will find a Snapdragon 821 processor and 8GB of RAM, meanwhile, the display here measures in at 5.7-inches with 1440p resolution.
The two all-in-ones announced today were the Vivo AiO V241 and the Zen AiO ZN242. Both of these PCs use 23.8-inch displays featuring NanoEdge and Multitouch technologies. However, the Vivo AiO features an Intel Core i5 CPU with GTX 930MX graphics, while the Zen AiO features an Intel Core i7-7700HQ, 32GB of RAM and a GTX 1050.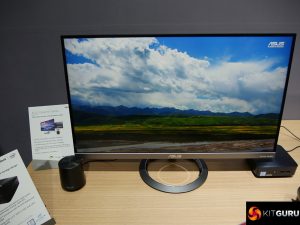 Finally, ASUS also announced a new monitor today, the Designo MZ27AQ. This is a 27-inch IPS display running at 2560×1440 resolution, covering 100 percent of the sRGB color gamut. It features 12W stereo speakers and an external 5W subwoofer co-developed by Harman-Kardon while the entire monitor measures in at just 7mm at its thinnest point. For connectivity, you get a DisplayPort and two HDMI ports.
KitGuru Says: While there was nothing truly enthusiast-grade at this particular presentation, ASUS does have plenty of new systems heading towards the mainstream and professional markets.