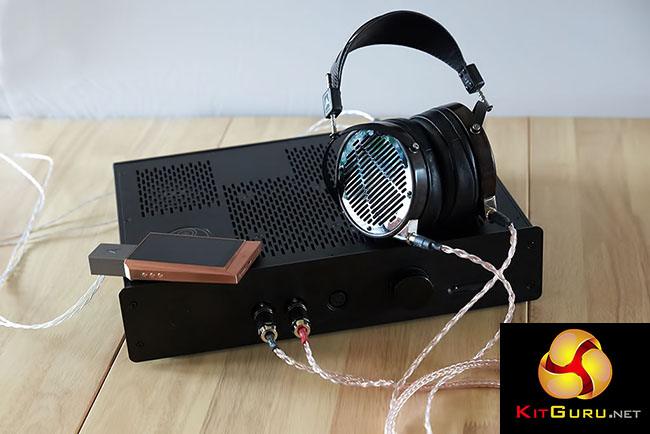 The Audeze LCD4 sits well with the Cavalli Liquid Gold, but I enjoyed the pairing greatly with the new Chord Hugo TT amplifier/DAC.
Audeze have experienced some rather widespread build quality and reliability issues in recent years and my pair of Audeze LCD 4 failed within a couple of weeks. The 100ohm diaphragm in the left ear piece failed while I was listening to it, and in a rather dramatic way. It basically imploded while I was listening to the 24 bit track 'The Testament Of My Heart' by the Karl Ikonen Trio.
Getting a new replacement for the LCD4 was pretty straightforward – and even though Audeze said they would be contacting all owners of the first revision (HERE) many people apparently have still not been contacted. Failures are likely to happen with any serial number before 4142270.
My initial set was 4142242, however it was replaced with a new 200 ohm version with serial 41423xx. So far all has been good although the sound signature between the first version and this reimagined version is a little different. The newer serial number drivers are also a little more difficult to drive properly.
Planar headphones are held in high regard for their bass slam, and the Audeze LCD4 is no slouch. Bass delivers plenty of impact when needed, yet there is never any indication of a loss of focus or smearing from the drivers. There is considerable extension down into sub bass without any break down.
These are fast drivers which can cope with a variety of music from multiple genres. They aren't quite as detailed as the HiFi Man HE1000, however some people have said they find the HE1000 slightly fatiguing, so it will be a personal taste consideration – ideally you want to hear both before making a purchase.
I actually ran a bass frequency sweep test down to 20hz without a problem which is impressive.
Audeze have earned a reputation over the years for their beautiful, seductive mids. I have used the older Audeze LCD3 headphones for quite some time now but the newer planar drivers deliver greater tonal texture with the same appealing transparency throughout the range. The Mahler Symphony No. 9 in D Minor by the London Symphony Orchestra in 24 bit at 192khz exhibited an edge more fine detail and nuance throughout playback than the previous iteration.
There is no doubt that for some people the Audeze LCD4 will be the perfect 'all round headphone' thanks to the non fatiguing high frequency delivery which never dominates or excessively exacerbates weaknesses in recordings. It is a very musical headphone which means you will spend a lot of time actually enjoying your favourite tracks, rather than over analysing the performance.
The Audeze LCD4 are a heavy headphone and it does make its presence known when worn. I wouldn't say they were an uncomfortable headphone like the Abyss 1266, however after a few hours they do place quite a strain on the neck and head. I can't help but feel that more companies need to pay attention to the HiFi Man HE 1000 design as they are extremely comfortable over many hours at a time.
Chord experienced great success with their Hugo amplifier. According to sales figures, it sold well in excess of 15,000 units and is ranked as the companies most popular overall product throughout their 26 year history.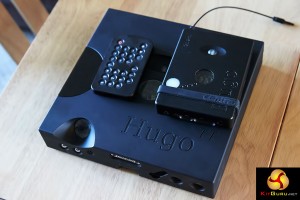 The latest version of the Hugo, is called the Hugo TT. The TT moniker means 'table top'. The image above shows the Hugo (on top) and the Hugo TT. The Hugo TT is substantially larger than the older version which focused on portability. Many people were actually using the Hugo as a main part of their home hifi system, which is how the Hugo TT came to fruition.
One of the major problems with the original Hugo was that the ports were very closely packed and some exotic cables just wouldn't fit into the ports.
Chord don't use standardised circuit design. They use their own FPGA (Field Programmable Gate Array) rather than widely available DAC ICs from companies such as Wolfson or Burr Brown.
Technically the TT has the same audio circuitry as the smaller Hugo. The power supply is the main difference between the units. The TT has double the capacity and incorporates super capacitors to improve battery life and performance.
While the Hugo TT can be used as a portable device, it is not really meant to be used as such. The battery pack and supercapacitor implementation is in place to isolate the audio circuitry from mains noise.
The TT has two USB-B inputs, with one offering support for 32 bit 384 kHz PCM data streams and DSD in single and double speed. The other is SD, limited to 16 bit/48Khz signals. Optical and coax inputs are also supported. Coax has a maximum support of 24 bit 384kHz and optical 24 bit 192Khz. There is also full support for aptX Bluetooth.
There are three headphone outputs, two 6.3mm and a single 3.5mm. The TT can be easily connected to a hifi system with both single ended and balanced XLR output connectors at the rear. This means it can also preform preamp duties. Black and silver options are available.
The Hugo TT is also supplied with a small remote control which is useful for volume control, if very little else. The remote is actually more useful for other Chord devices, as most of the buttons are not applicable to the Hugo TT.
The Chord Hugo TT and Audeze LCD4 are a fantastic combination. Complex classical pieces are faithfully rendered with a sense of scale and fine detail. It is just as comfortable relaying less complex music such as the pub rock blues of the Kenny Wayne Shepherd Band.
Composure, comfort with a sense of scale and tight control are always key with this pairing.