We've had Ryzen 5000 series processors available for quite some time now, but we have yet to see the launch of AMD's next-gen Ryzen 5000G APU series. It looks like we won't have to wait much longer, however, as the product data sheet containing the specs for AMD's upcoming APUs has leaked. The leak details three SKUs – the Ryzen 7 5700G, Ryzen 5 5600G, and the Ryzen 3 5300G.
The datasheet, which has been leaked by @momomo_us, details the base and max boost clock of each processor, as well as the core count and amount of L3 cache.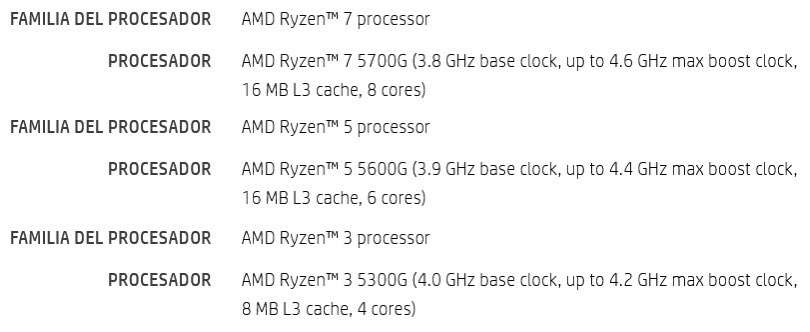 Image credit: @momomo_us
The Ryzen 7 5700G, the flagship processor of the Ryzen 5000G series, is an 8C/16T APU with 16MB of L3 cache and a 3.8GHz base clock which boosts up to 4.6GHz. As for the Ryzen 5 5600G, this 6C/12T processor has a base clock of 3.9GHz, a max boost clock of 4.4GHz, and 16MB of L3 cache. Lastly, there's the 4C/8T Ryzen 3 5300G, coming with 8MB of L3 cache, and a 4.0GHz base clock and boost speeds of up to 4.2GHz. All Ryzen 5000G APUs have a 65W TDP.
The following table sums up all the leaked specifications of each processor:
| | Cores / Threads | Base Clock | Boost Clock | TDP |
| --- | --- | --- | --- | --- |
| Ryzen 7 5700G | | | | |
| Ryzen 5 5600G | | | | |
| Ryzen 3 5300G | | | | |
Compared to the previous generation of Ryzen APUs (4000G), the Ryzen 5000G will offer a 200MHz CPU frequency bump across all SKUs. The differences in the GPU are still hard to determine, but the Vega integrated graphics of the Ryzen 5000G APUs are expected to feature more CUs and possibly a GPU clock increase.
Discuss on our Facebook page, HERE.
KitGuru says: If AMD made the Ryzen 5000G available to the DIY market, these APUs would be a great alternative for those waiting for the GPU prices coming back to normal. Do you think the Ryzen 5000G APUs should be available through retailers? Would you consider buying one?