The STRIX Pro is a stunning looking headset but how does it perform?
As usual, the testing procedure when it comes to headsets involves me wearing it for just over a week, using it for daily activities and specific tests. To make sure it's up to scratch, I play a variety of games on it, listen to many genre's of music and different types of audio and watch a couple of movies.
This should give a pretty accurate representation of how good the headset is.
Overall I have to say I am impressed with not only the headset's performance, but some of the little touches that ASUS has made, really helping the STRIX PRO stand out from the more traditional ROG offerings.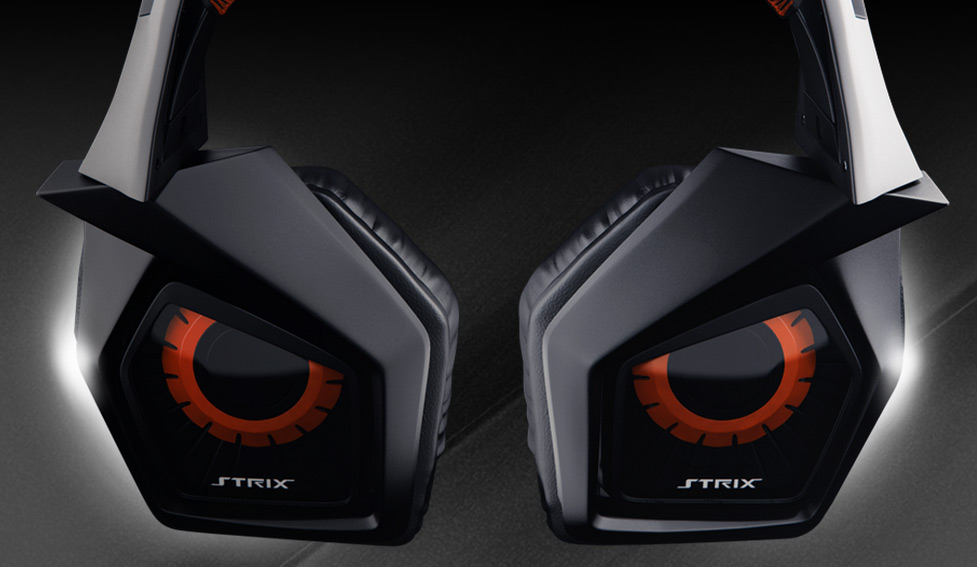 Due to how big this headset is, I do feel like a bit of an idiot wearing it. Even with the tinted plastic covering the orange, eye like interiors (which looks great), this headset just doesn't need to be as big or as plasticy as it is. It takes away from the overall design in my opinion. That said, I think younger gamers will love this 'over the top' style.
In terms of sound quality, the STRIX Pro is a very good all-round headset. The audio signature is actually well balanced without a particular focus on a single frequency range. At the bottom end the bass rumbles away and thumps your head as you raise it up. The mid range is a little recessed, but not to the point that it really detracts from the experience. High frequencies were pretty crisp throughout testing.
This is no audiophile headset, but for gamers it is going to meet the grade, with flying colours.
Gaming is where this headset shines and for only a single pair of drivers it does a fantastic job of situating different audio sources so you will know if someone is to your left or right. This is no 5.1 set, so don't expect much in terms of 3D sound, but stereo panning is more than doable. Explosions sound great and dialogue doesn't get messed up in the mix – as you often get with cheaper headsets.
If I was going to criticise anything it is that the sound signature was a little 'flat' out of the box. In some ways this is positive because you aren't dealing with inflated bass response or harsh treble frequencies … which can be fatiguing. A few tweaks with the equaliser curve can inject a little more life into the audio.
In regards to comfort I was pretty impressed, not because I didn't think this headset would be comfortable, but because I thought that with the leather earcups it would get very hot and sweaty. It does, but it's far from horrendous and it's been pretty hot here recently. I happily wore the Strix Pro headset for hours without issue. This is one you can game for an age in and never have to worry about taking it off.
You don't even technically need to take it off if you have a toilet break, thanks to this little guy: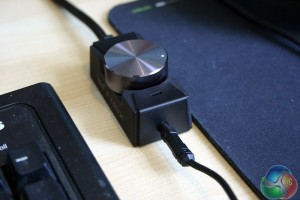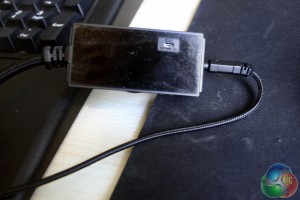 The volume control's turn dial is silky smooth too
The volume control is actually one of my favourite additions – for the simple fact that it has a little sticky pad on the bottom. This means you can stick the volume control to your desk wherever you want and it stays there, rock solid. You then plug in the headset's 3.5mm cable (which is only about two feet long) and you are good to go. If you want to leave and take the headset with you, instead of reaching under the desk and taking it apart that way, you just unplug it from the volume control.
The underside of the volume control also hides the ENC switch, which controls Asus' "90 per cent" noise reduction technology. With the ENC turned on and the mic turned up to its maximum in the sound card settings, you can't hear typing on my mechanical keyboard (Cherry Black switches). Likewise noise in the rest of the room is almost non existent. Even when I clicked my fingers right behind the microphone it is barely audible. Full marks for ASUS for this feature.
The downside to noise cancelling is that unless you have the mic jammed right next to your mouth and speak clearly, you can sound quite far away and robotic. It's something you can work around and is perhaps why the mic is quite rigid, so once you have found the best place for it it stays there. Just don't expect to be using it at a distance, like you can with some headsets.
Ultimately then, ASUS should be proud of the new range debut and the release of the STRIX Pro headset. It sounds good, has some practical innovative tricks that I think more developers should adopt and while the appearance will certainly be a 'love or hate it' deal – you can't deny it certainly stands out within a crowded marketplace.
That is perhaps the biggest take home with the STRIX. In a market that is dominated by red and black plastic, the Strix does things a little differently. It is big and bold and eye catching, it has a volume controller that I have just fallen in love with and some innovative mic technologies that make me want to buy one for all my heavy breathing friends.
While the STRIX Pro won't be available for purchase until next month, the recommended price from retailers will be around £79.99. This makes it far from a budget offering, but considering the extensive feature set and overall sound quality, it is worth it.
Discuss on our Facebook page, over HERE.
Pros
Sounds good across the frequency range.

Volume control is smooth, can be stuck to desk.

ENC does a surprisingly good job of blocking background noise.

Very eye catching styling.

Comfortable over long periods.
Cons
ENC makes your voice weird unless the mic is right next to your mouth.

Looks and feels too big for a simple headset.

Needs a little EQ tweak to bring out the best sound.

Frame creaks a lot when moving.
KitGuru Says: The Strix Pro is a unique headset in a market that feels increasingly samey. Asus' new brand is off to a flying start.