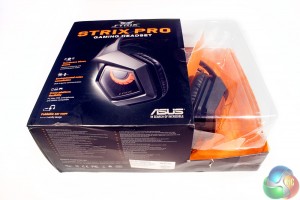 The packaging for the ASUS STRIX Pro is elaborate. Unfortunately it suffered some minor damage on the way here, but that is partly down to the fact that it has a clear plastic section, which gives you a great view of the product itself.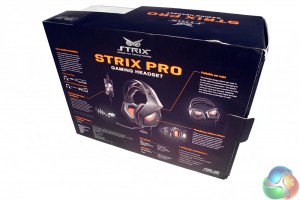 The back and the front both feature plenty of information on the headset, detailing features such as the high quality, neodymium 60mm drivers and the fact that the ear cups fold flat.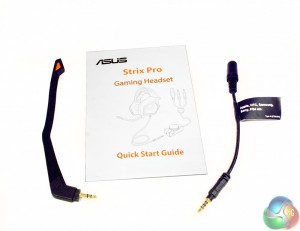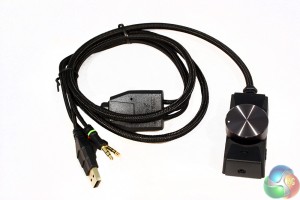 Along with the headset itself there is a quick-start guide, along with a detachable boom mic and additional smartphone adapter cable.
Asus also bundle a separate PC attachment kit, which includes a USB power cable, twin 3.5mm headers for audio input and microphone output. These are attached to a very well built volume control.
The control has a lovely, reflective turn wheel, along with a slider on the side to handle mic muting. I was initially a little concerned by how heavy and potentially uncomfortable it could be if it was dangling by your side all the time. Thankfully the volume knob actually comes with a sticky underside, letting you pin it your desk, thereby acting as a cable tidy as well as a convenient place to put it.
Since the headset plugs in to this volume control, it also makes it really easy to walk away from it and use the headset on your phone since you don't need to route around behind the PC to unplug any cables.